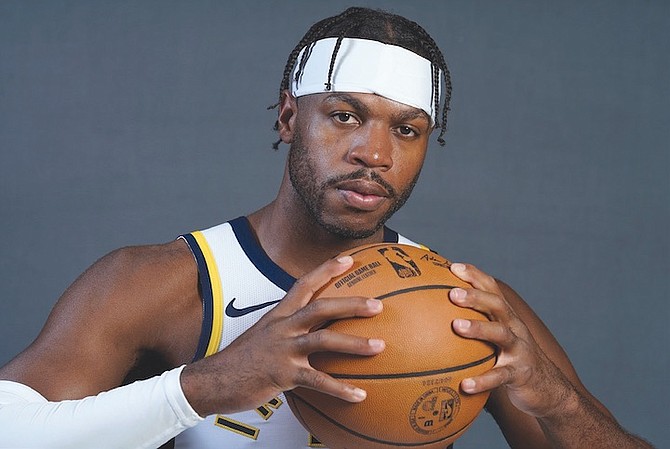 Indiana Pacers guard Chavano "Buddy" Hield (7) poses NBA basketball team's media day in Indianapolis on Monday, October 2. (AP Photo/Michael Conroy)
As of Thursday, October 5, 2023
#By TENAJH SWEETING
#Tribune Sports Reporter
#tsweeting@tribunemedia.net
#INDIANA Pacers shooting guard Chavano "Buddy" Hield is focused on training camp despite ongoing conversations surrounding his contract extension with the team.
#Less than two weeks ago, contract negotiations between the Bahamian sharpshooter and his current team came to a standstill as both parties were unable to come to a suitable agreement.
#With only one year remaining on the Grand Bahamian's four-year $94 million contract, Hield's name emerged in National Basketball Association (NBA) trade rumours which he addressed at the Pacers Media Day Monday.
#The three-point specialist said there is nothing on his mind regarding the contract extension and trade talks as training camp begins for the Pacers.
#"There is nothing on my mind, it's basketball, it's fun. I approach it as every training camp, especially like I did last year, coming focused and just get the work in. I am excited to work with these guys, it's a fun group of guy. We have a great coaching staff and great team that's ready to put in the work and teammates that love each other. I'm excited and I can't wait," he said.
#In addition to the contract talks halting as of late, the Pacers are also looking to move the 30-year-old wing player to the bench. Hield got the nod to start for the majority of the Pacers' games in the previous season.
#However, the 2022 number six pick Bennedict Mathurin made significant strides as the team's sixth man which eventually translated into him replacing Hield in the starting rotation as the season winded down.
#The Grand Bahama native noted that basketball is a game of adjustments and he simply wants to do what is best for the team.
#"It's basketball, you just gotta figure it out.
#"As a basketball player you have to know how to adjust. I've started and come off the bench. I've adjusted my whole life, one thing with me, I know how to figure it out, you put me in a situation I'm going to figure it out," according to Hield.
#Although the 2023-24 NBA season is now the centre of his focus, the shooting guard had quite the summer competing alongside his Bahamian teammates in the FIBA (International Basketball Federation) Olympic Pre-Qualifying Tournament.
#He talked about the joy of playing with fellow NBA players Portland Trail Blazers centre Deandre Ayton and Phoenix Suns guard Eric Gordon.
#"The Bahamas national team was so fun. I think just being there and just like accomplishing that and we've still got this summer to come to get to the Olympics," he said.
#Hield added that playing with Gordon and Ayton as well as putting the team before everybody allowed them to accomplish something special and it was great.
#With training camps already underway for the Pacers organisation, the NBA professional player is hoping to improve on defence, and also paying attention to small details in efforts to close out games this upcoming season. Preseason games are slated for 8pm Sunday against the Memphis Grizzlies.