Buddy Hield Hopes To Face Off With 'Splash Brothers'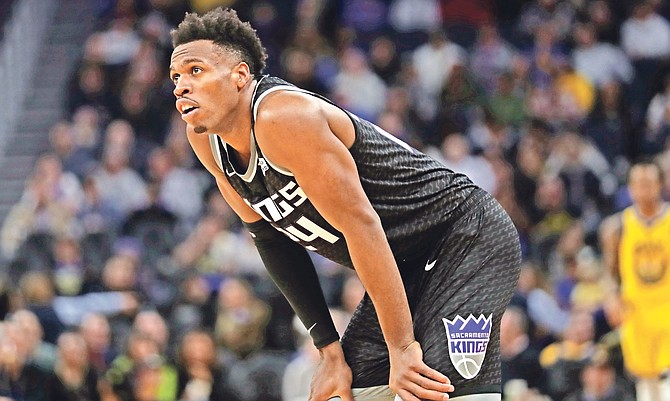 Sacramento Kings guard Buddy Hield. (AP)
As of Thursday, April 23, 2020
#By RENALDO DORSETT
#Tribune Sports Reporter
#rdorsett@tribunemedia.net
#The NBA season may be on hiatus but Buddy Hield relishes the opportunity to compete against what some call the best shooting backcourt of all time to prove himself as the top three-point shooter in the league.
#Hield appeared on the debut episode of "Wire to Wire: Warriors vs Kings" on NBC Sports Bay Area and NBC Sports California to discuss the California interstate rivalry, particularly, the February 25 matchup at Chase Center.
#Hield finished with 19 points, including five made three pointers in the fourth quarter of the Kings 112-94 win.
#The 2020 three-point champion is known as one of the top marksmen in the sport, but said he hopes to one day defend that title against past champions and fellow elite shooters – Stephen Curry and Klay Thompson.
#Curry previously won the 3-Point Contest in 2015, while Thompson won in 2016. Hield said he looks forward to facing both in future editions of the event. "I think it'd be better going against them and winning it, because they're such great shooters," Hield said.
#"Probably two of the best shooters to ever play our game. And hopefully one of these days we can all go in there one time and see what everybody is about and have that big challenge."
#"Wire to Wire: Warriors vs Kings" airs on NBC Sports Bay Area on Tuesday at 10pm and NBC Sports California on Wednesday at 10pm.
#Earlier this season, Hield shot 9-10 from beyond the arc, and became the fastest player in NBA history to make 800 career three-point field goals.
#He accomplished the feat in just 296 games to surpass the mark set by Stephen Curry, who did it in 305 games.
#In his four-year career, Hield has made more three-point field goals than any other player in his first four NBA seasons with 830. He surpassed the previous record of 828 set by Damian Lillard of the Portland Trail Blazers.
#Curry currently holds the record for most three-point field goals made in a single season with 402 set in 2015-16. He also ranks third (354 in 2018-19), fourth (324 in 2016-17), sixth (286 in 2014-15) and ninth (272 in 2012-13) on the top 10 list.
#Hield's 2018-19 season comes in at No.7 all time with 278 threes while Thompson is ranked No.9 with 276 made in 2015-16.
#In his championship winning 3-Point Contest, Hield executed a nearly perfect final round to become the champion last February in Chicago.
#The Grand Bahama native posted a final round of 27 points, and clinched the title on his final shot to defeat the Phoenix Suns' Devin Booker in the final round of the Mtn Dew Three Point Shootout at State Farm All-Star Saturday Night.
#At the 2018 All-Star Weekend in Charlotte, North Carolina, Hield fell short in his bid to win the title in his debut. He reached the championship round but finished third behind second place finisher, Curry, and eventual champion, Joe Harris.