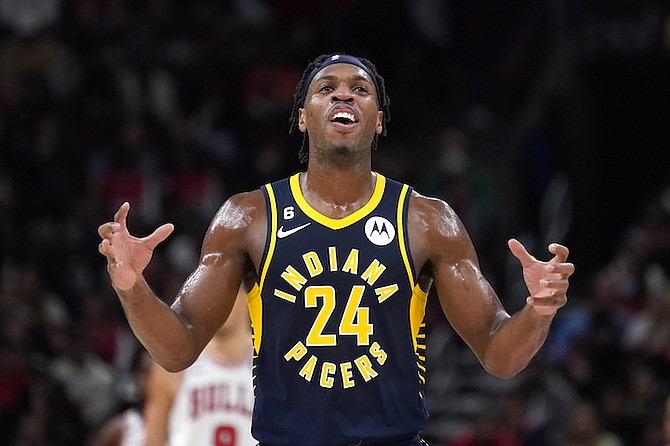 INDIANA Pacers guard Buddy Hield reacts after hitting a clutch three-pointer during an NBA basketball game against the Chicago Bulls on October 26 in Chicago. Hield signed a multi-year shoe deal extension with Nike yesterday. (AP Photo/Charles Rex Arbogast)
As of Thursday, November 10, 2022
#By RENALDO DORSETT
#Tribune Sports Reporter
#rdorsett@tribunemedia.net
#Chavano "Buddy" Hield has had an endorsement deal with Nike for the duration of his NBA career and that partnership will continue for the foreseeable future.
#The Indiana Pacers guard signed a multi-year shoe deal extension with the sneaker and athletic apparel giant yesterday. Terms of the deal were not disclosed.
#Hield, who has been represented by Icona Agency since November 2021, has become known in NBA circles for his series of Kobe Bryant "Player Edition" sneakers in the Bahamian flag colourway.
#Hield originally signed with Nike in 2016, just weeks ahead of the NBA Draft. In his first full season as a member of the Pacers, he is averaging 18.7 points, a career high 5.7 rebounds and 3.6 assists per game.
#He is also shooting 46 percent from the field, 42 percent from three-point range and 92 percent from the free throw line. Through 10 games, Hield has made at least four three-point field goals in six of those games.
#The early veteran extension deadline passed on October 17 without Hield and Pacers reaching an agreement to extend his current contract. Hield has been the subject of trade rumours for much of the offseason and had the sides agreed to an extension, he would have been ineligible to be traded for at least six months if the deal included a more than five percent raise. Hield will now be ineligible for an extension until next offseason. "It's the business of basketball. No matter what happens I love playing basketball," he said in training camp. "Once I have a job, and I'm able to play in this league for a long time it doesn't matter where I go, I'm happy, I'm still here I'm just glad to play basketball at a high level with the best basketball players in the world."
http://www.tribune242.com/news/2022/nov/10/buddy-hield-signs-extension-nike/?news