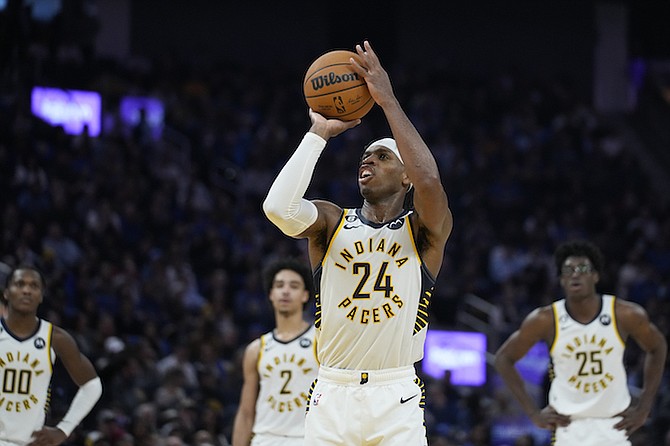 Indiana Pacers forward Buddy Hield (24) shoots a free throw against the Golden State Warriors during the first half of an NBA basketball game in San Francisco, Monday, Dec. 5, 2022. (AP Photo/Godofredo A. Vásquez)
As of Wednesday, December 7, 2022
#By RENALDO DORSETT
#Tribune Sports Reporter
#rdorsett@tribunemedia.net
#Chavano "Buddy" Hield reached another career milestone, another addition to his résumé as one of the top three-point shooters in the NBA.
#In Monday night's 112-104 win over the Golden State Warriors, Hield became the second fastest player in NBA to make 1,500 career three-point field goals.
#Hield reached the mark in 492 games, second only to the Warriors' Stephen Curry who holds the record for achieving the feat in 477 games.
#"I've just got to keep going man. My teammates got my back, my teammates have supported me each way in helping me get to that mark," Hield said. "I've just got to keep grinding, stay humble and put God first."
#Hield finished the game with 17 points, nine rebounds and five assists in the win. He shot 4-13 from three-point range as the Pacers brought an end to a three-game losing streak.
#He also has the most three-point field goals made since the 2018-19 season. His 1,176 makes over that timespan ranks ahead of Curry, James Harden (970), Damian Lillard (916), Donovan Mitchell (856), Jayson Tatum (804) and Luka Doncic (793).
#It was just the latest career three-point milestone for the sharpshooting Grand Bahama native during his NBA tenure with three teams.
#Last season, he moved into 50th place in career three-point field goals made when he surpassed 1,397 through his six-year career. Hield surpassed former Three Point contest champion Brent Barry and at the conclusion of the 2021-22 campaign.
#Over the course of the season, he ranked fourth last season in both three-point makes (262) and attempted (716).
#He played in 385 of 388 possible games during his time with the Sacramento Kings.
#Hield left as the franchise's all-time leader in three-point field goals made.
#Also on his résumé, Hield made more three-point field goals than any other player through the first 400 games of their NBA career.
#He set the mark of 1,209 three pointers in his 400th on November 12, 2021. Hield also became the fastest player to make 1,000 career three-pointers in NBA history. He set the mark in just 350 games to reach the milestone faster than Curry, who held the previous record of 369 games.
#In his first full season as a member of the Pacers, he is averaging 16.9 points and a career high 4.7 rebounds and 2.7 assists per game. He is also shooting 41 percent from the field, 437 percent from three-point range and 84 percent from the free throw line.
#Last month, the Indiana Pacers guard signed a multi-year shoe deal extension with the sneaker and athletic apparel giant, Nike. Terms of the deal were not disclosed.
http://www.tribune242.com/news/2022/dec/07/buddy-reaches-another-career-3-point-milestone/?news