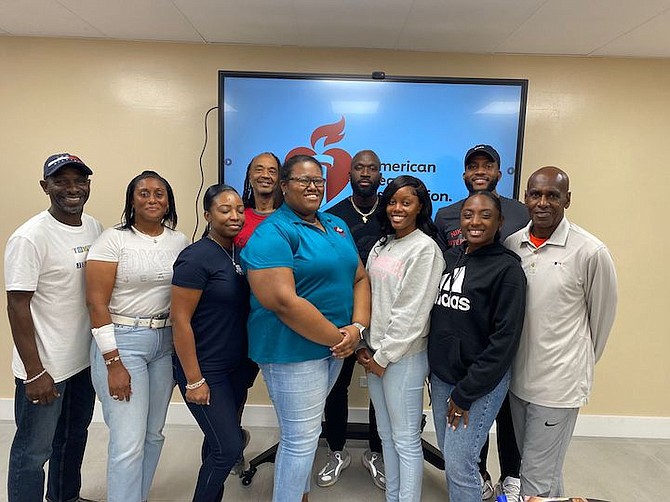 RED-Line Athletics' coaching staff with Ms Celine Scott, of Doctors Hospital Training Institute.
As of Friday, November 3, 2023
#By BRENT STUBBS
#Senior Sports Reporter
#bstubbs@tribunemedia.net
#WHILE they will prepare to hold their fourth annual Motivational, Health & Wellness Seminar for their athletes this weekend, the Red-Line Athletics Track Club hosted a course for their coaches and management team.
#All the coaches, with the exception of one, and three members of their management team participated in a First AID CPR and EE Course. They are coaches Tito Moss, Earl Rahming, Mike Armbrister, Rachante Colebrook, Kryshell Rolle and Cerio Rolle. The management team members were Shanique Sweeting, Thaillase Maycock and Mark Major
#"We found it necessary to all be compliant and certified in First AID and CPR because we are responsible for 90-something kids," said Tito Moss, the club's founding president and head coach. "And also, in light of the young man in Eleuthera who suddenly passed away and the guy from Queen's College, who was attending a basketball practice at the school, we want to make sure we equipped ourselves with everything possible in case that there is an incident, we can cater to it immediately."
#Having completed the initial course, Moss revealed that the club will do what is necessary to acquire an AED to make sure we have on hand in case there is an emergency.
#"We just pray and hope that there is never a need for the training and certification that we have gotten. But we will make sure that we equip ourselves to make sure that we are ready if there is one."
#The certification, which was administered by Doctors Hospital Training Institute on Soldier Road, is for two years until October 28, 2025 with nine coaches and three management team members, successfully passing the course. Roberts, the only coach was not available, will take the certification on November 17,
#On Saturday, the Motivational, Health & Wellness Seminar, under the theme: "Building Holistic Champions," will take place in the Sea Salt Room at the National Training Agency from 10:30 am to 3:30 pm.
#A wide range of topics will be presented by various speakers. They include the following:
#Bahamas Anti-Doping Commission, represented by Petra Haven and Dominic Laing, will speak on the topic "Anti-Doping and the Doping Control Process."
#Joyce Johnson will address the topic of NCAA. What is NIL? Name, Image. Likeness and Maud Smith will speak on "Financial Wellness. Planning, Saving."
#Bahamian Olympic bronze medalist and national triple jump record holder Leevan 'Superman' Sands will address two topics, one of which will be "Collegiate Recruitment: and the other will be "Athlete's Self-Accountability – Importance of Warming Up, Warming Down, Stretching, Taking Care of your body."
#Prior to participating in the seminar on Saturday, Sands will also share his expertise in a Jumps Clinic that will be staged on Friday between 4-6 pm at the original Thomas A. Robinson National Stadium.