'Building Holistic Champions'
RED-LINE ATHLETICS TRACK CLUB HOSTS ANNUAL MOTIVATIONAL, HEALTH AND WELLNESS SEMINAR

RED-Line Athletics athletes and coaches flank speaker Tia Thompson.
As of Wednesday, November 9, 2022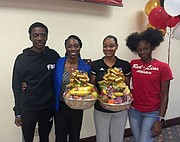 PRESENTERS Sasha Johnson and Shakeitha Henfield receive their gift baskets from D'Angelo Collie and Ezthia Maycock.
#By BRENT STUBBS
#Senior Sports Reporter
#bstubbs@tribunemedia.net
#IN an effort to continue to sensitize its athletes to a holistic approach to track and field, the Red- Line Athletics Track Club hosted its third annual Motivational Health & Wellness Seminar 2022.
#The one-day event took place on Saturday at the National Training Agency on Gladstone Road where the athletes and parents heard from a number of dynamic speakers that addressed the overall theme: "Building Holistic Champions."
#Dawn Sands spoke on "Good Nutrition Equals Energy," physical fitness therapists Shakeitha Henfield and Sasha Johnson combined to address "Injury Prevention for the High School Student," businesswoman Tia Thompson did the "Boomerang Effect" and parent Melissa Major spoke on the preventative care of "Are You Aware?"
#Coach Rachante Colebrooke, who along with coach Earl Rahming Jr, conducted the seminar, said it's in keeping with their mandate to encourage the athletes in all areas of their lives, including academics, athletics, holistic, mental and emotionally to ensure that they reach their full potential.
#"We do our best to seek persons they may or may not be familiar with," Colebrooke said. "We bring in experts who would have walked the same path they have or walked similar paths to share their stories and enlighten them on some of the things they can do to attain their level of success."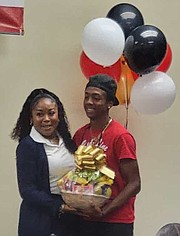 TIA Thompson receives a gift basket from Tumani Skinner.
#Colebrooke said they were impressed with the involvement of the athletes as they interacted with each speaker.
#"We believe they were very receptive with the questions and advice they were given," she said. "I don't think we could ask for more."
#Thompson is a 26-year-old graduate of St Augustine's College, who was previously employed at JCN and Eyewitness News as well as Fidelity Bank. Last year, she ventured full-time into the ownership of her Miss Teen Bahamas International Franchise and Painted Cosmetics.
#She instructed the athletes on the importance of social media and the effects of using it in a negative light, the proper use of emails and how to use social media for jobs and universities and the effects of cyber bullying.
#"I think the kids really enjoyed it. It was definitely more than I thought it would be," she said. "It made me happy that they listened and that it is something that they could listen to."
#Major, a breast cancer survivor, shed some light on the awareness of cancer and things they can put in place for their future to make it easier to prevent it from occurring.
#"I think it was very good. Everybody went away feeling informed," she said. "We want to remind of cancer because it is still a concern for people in our community, and nobody wants to talk about it. "When we talk about cancer, it's that fear of death. So, I was glad that we had the conversation, and we were able to put some things in place so that we could prevent it."
#Clinton Laguerre, a 12th grader at St Augustine's College, said the seminar once again was quite beneficial to him.
#"I learned a lot about what I want to be and moving forward, I learn what to do and not to do in life," he said.
#"I learn the positive and the negatives. This was a very well set up seminar. I really appreciate all of those who came."
#Hopefully, as he heads into the upcoming season, Laguerre said he has a lot to look forward to.
#"Looking at the times I want to run, I think all of the nutritional stuff that I learned today will lead me into running those times," he said, with hopes to drop his personal best times to under the 22-second barrier in the 200m, at least run 46 seconds in the 400 metres and about 50 in the 400m hurdles.
#Club founding president and head coach Tito Moss said they want to use this seminar to speak to the whole athlete and they felt they achieved their goal.
#"We don't just do these things to be cute, but we realise the need and the fact that the kids need to know the value of eating properly and training and working hard as well as taking their rest," Moss said.
#Moss, who will be vying for the post of vice president of operations during the Bahamas Association of Athletic Associations' election of officers on Saturday, December 3, said they were quite pleased with what transpired and so they are excited about the upcoming season. "The numbers in the club has grown, but not only have we grown, but we added some quality pieces," Moss said. "We look for members of Red-Line to be very dominant in the under-15 boys and girls, under-17 boys and girls and under- 20 boys and girls. "We are going to have some of the best athletes in these age groups and we look forward to having several members of Red-Line as a part of Team Bahamas at CARIFTA in 2023. So, our club has grown, we have added some pieces and we are continuing to push them to do their very best."
#Red-Line Athletics will begin their track season over the weekend of January 28-29 at the Thomas A Robinson Track and Field Stadium.
#The CARIFTA Games is scheduled for the Easter holiday weekend of April 7-10 at Thomas A Robinson National Stadium.
http://www.tribune242.com/news/2022/nov/09/building-holistic-champions/?news