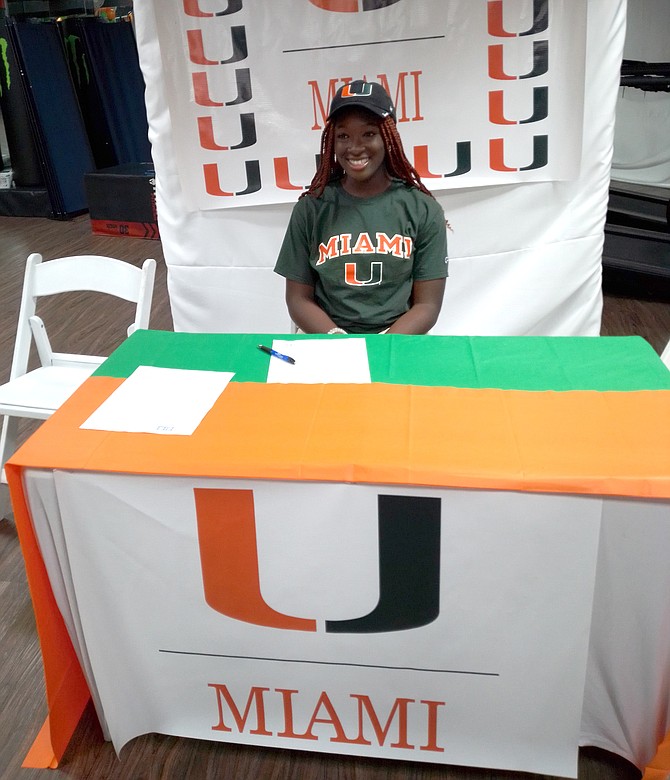 CALEA Jackson signs her letter of intent to take her discus-throwing talent to the University of Miami where she will compete on the Hurricanes women's track and field team.
As of Monday, November 21, 2022
#By BRENT STUBBS
#Senior Sports Reporter
#bstubbs@tribunemedia.net
#AN emotional strongwoman Calea Jackson made it official, signing her letter of intent to take her discus-throwing talent to the University of Miami where she will compete on the Hurricanes women's track and field team.
#Surrounded by her family and members of the Blue Chips Throwers Club, Jackson inked her name on the dotted line during a ceremony on Saturday at the Empire Fitness Center in Yamacraw.
#The event was proceeded by a junkanoo rush-out from members of the Saxon Superstars.
#"It's so surreal," said Jackson after she had to hold back her tears as she thanked everybody in attendance for their support of her career at this point. "I can't believe that this has happened. I waited so long for it."
#When asked why she decided to settle on Miami, which is located in Coral Gables and is a member of the Atlantic Coast Conference (ACC) in the National Collegiate Athletic Association (NCAA) Division One, she said it was the best choice for her to pursue her academic aspirations in the medical field.
#"It's kind of surreal, something that I would definitely have to think about, over and over again," Jackson said. "I have to convince myself about it because it's still unbelievable."
#Jackson is a former student of Queen's College where she got started in the sport under coach Corrington Maycock of the Blue Chips Athletics track club.
#The 17-year-old is a former big time performer for the Queen's College Comets before she transferred to Rabun Gap-Nacoochee School, a private co-educational day and boarding school located in Atlanta, Georgia.
#This year's CARIFTA Games' fourth place finisher in the under-20 girls in Kingston, Jamaica with a heave of 147-feet, 3-inches or 44.90 metres, has achieved a personal best of 150-11 (46m) in preparing for lofty goals when she begin her enrollment as a Hurricane at the University of Miami in August, 2023.
#"I definitely want to become an ACC champion at one point, I want to get at least two PBs (personal best) in my first year and I would like to make it to the NCAA Championships, hopefully in my first year," she said.
#"I'm not satisfied with where I am right now. I know I have a lot to do, but it's definitely a step in the right direction for me to improve on my collegiate career just as I did in my high school career."
#Her long-time coach Corrington Maycock, who got her started in the sport rather than getting into dancing, was just as enthused about her commitment to attend UM.
#"Beyond the accolades that they would receive from competing as a track athlete, our goal is to ensure that these athletes get to pursue their dreams of earning an athletic scholarship.
#"We were just here a few months ago for Keyshawn Strachan and now it's Calea Jackson's time.
#"Over the next few years, we have quite a number of athletes who have the potential to also get their scholarships, so we just want to make sure that they are ready when their time comes. We know that Calea is definitely ready."
#On hand to congratulate Jackson was Bahamas Association of Athletic Associations president Drumeco Archer, who took the time out to acknowledge Maycock for helping to revive the throwing events in the field of track.
#"It is something that is noteworthy and remarkable," said Archer of Maycock, who assisted in the development of throwers like Laquell Harrison, now a coach in Blue Chips Athletics, national record holder and CARIFTA champion Keyshawn Strachan and CARIFTA gold medallist Dior Scott.
#On Jackson's historic day, Archer said he remembers when she did her first interview and she began to cry. Now looking at her development, he noted that she's still crying as she moves into another important aspect of her life.
#"She's not just an amazing athlete, but an amazing individual," Archer pointed out.
#"She's not just a world-class athlete, but a world-class student, who has achieved and maintained a 4.0 grade point average and a student who has been sought after by so many universities large and small.
#"The University of Miami has inherited a good woman."
#Her mother Carla Jackson said she got a video from the coach at the University of Miami in 2017 when her daughter was in grade seven.
#She said she can't believe that they did it for that long, but the fruit of their labour has finally paid off.
#"I've been really hard on her to the point where to this point this year, I started to feel the guilt where she actually started to do what she had to do to get to the point where she needed to be," mother Jackson said.
#"So I'm so proud of you. You've surpassed what I expected. You were just so far beyond that I felt the guilt for what I've done to you. There's nothing else that I can do. You've done it all."
#Jackson expressed her gratitude to all who showed up to support her and even those who were there from the beginning of her career.
#Dwayne Mackey, her stepfather, said he's just as proud of Jackson's achievement because he knows the struggles that she went through.
#He said he's just glad that she chose the University of Miami because having spent some time in Florida, he knows how to get around and she's going to be in the right place to enhance her career further.
#Looking back at where she came from, a teary-eyed Jackson soaked it all in by expressing her gratitude to her parents, her coach, her team-mates and anybody else who would have supported her from her start to her current stage in her development as one of the top throwers in the island nation.
http://www.tribune242.com/news/2022/nov/21/calea-jackson-signs-university-miami/?news