Camperdown teams sweep Interscholastic Equestrian League spring term competition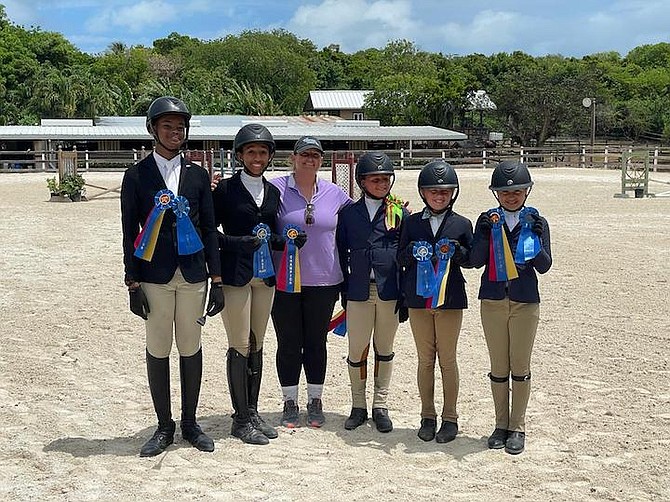 FIRST PLACE CEC Blue Marlins, shown from left to right, Connor Watkins, Hannah D'Aguilar, Trainer Kimberly Johnson, Kaitlyn Russell, Marlo Pinder and Kelsey Pyfrom.
#THE Camperdown Equestrian Centre Blue Marlins emerged triumphant as champions in the final show of the Bahamas Interscholastic Equestrian League (BIEL) competition season, which took place at Camperdown Equestrian Centre last weekend.
#The CEC Blue Marlins finished with a total of 38 points, while the CEC Sand Dollars and the two-time Champion Mariposa Gold Drops battled for second place, tied just one point behind.
#In the end the home side took all the top honours, as the Sand Dollars won an over-fences tiebreaker to finish as Reserve Champions with 37 points, while the Gold Drops had to settle for third place. The Mariposa Monarchs, competing one rider short, finished in fourth.
#Strong performances from all the riders meant that just seven points separated the top four teams.
#The third and final leg of this year's BIEL Interscholastic competition featured a total of 30 student riders from different schools. Riders competed under the watchful eye of USEF 'R' Judge Robert Robold, a former alternate for the German Show Jumping Team and past president of the East Coast Hunter-Jumper Association. Robold took time to dispense comments and advice to riders and their coaches, Kimberly Johnson (coach of the CEC Blue Marlins and CEC Sand Dollars) and Erika Adderley (coach of the Mariposa Gold Drops and the Mariposa Monarchs.)
#BIEL was founded in 2017 and is sponsored by Equestrian Bahamas, the national federation for equestrian sport.
#The league consists of a series of three competitions, from which a national championship is awarded.
#Teams are comprised of school-aged riders from across New Providence.
#BIEL competitions are perennial favourites among junior riders because of the team emphasis and the unique format, based on collegiate competition rules, in which riders and horses are matched by random draw. This provides riders with the exciting opportunity to show their skills in the ring while riding unfamiliar horses, preparing them for the rigours of intercollegiate competition.
http://www.tribune242.com/news/2023/may/18/camperdown-teams-sweep-interscholastic-equestrian-/?news