Edit with ElementorSwitch to draftPreview(opens in a new tab)UpdateAdd titlePermalink:http://sportsinthebahamas.com/blog/2013/03/27/carifta-feat-to-remember-grafton-ifill-iiis-double-dose-of-victory/‎(opens in a new tab)Edit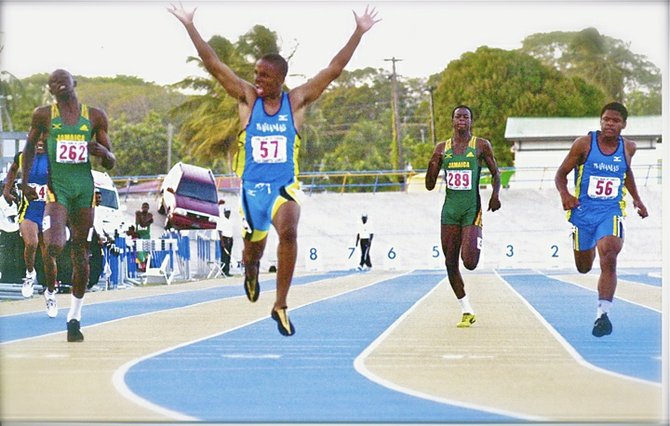 #By BRENT STUBBS
#Senior Sports Reporter
#bstubbs@tribunemedia.net
#GRAFTON Ifill III may have taken a path in life that few athletes have followed, but he left behind a lasting impression on the third of his five appearances at the Carifta Games as one of the top sprinters in the Caribbean.
#In 2001, as a member of Team Bahamas at the 30th games in Bridgetown, Barbados, Ifill posted a double victory in the under-17 boys 100 metres in 10.67 seconds and the 200m in 21.86. Fellow Bahamian Oscar Greene got the silver in the century in 10.72 and the bronze in the half-lap in 21.94.
#What was more significant was the fact that Jamaican sensation Usain Bolt had to settle for the silver in the deuce in 21.81, which marked the last time that he was beaten in the top junior regional track and field meet before he went on to global acclaim on the senior circuit.
#"I don't remember a lot of it, but I do remember getting out fast and covering a lot of ground very quickly in that race and I came off the bend ahead of the field and it was pretty much over after that," said Ifill in an interview with The Tribune yesterday. "It was definitely a special race."
#More than 20 years before that in Barbados, Ifill's father, Grafton Ifill Jr, represented the Bahamas in the half-lapper as well as the triple jump. But he left the games empty handed and his performances haunted him throughout the years until he was finally able to revive the success through Ifill III.
#"Through my entire track career, he channelled all of his energy of his shortcomings into my career and I was able to go back to Barbados at the same Carifta Games with him and my grandfather, Grafton Ifill Sr (who was there during Ifill Jr's appearance) to win the 200 that in our view was the medal that he left behind," the younger Ifill said.
#"That's why I threw up my hands because the race and the victory was so special. The fact that Usain (Bolt) was in the race didn't really surface until years later. But it was very special, even before we realised what a success he has turned into."
#The following year in 2002 in the Bahamas, Ifill III moved up to the under-20 boys division where he had to settle for the silver in both the 100 and 200 behind the Trinidad & Tobago's double dynamic duo of Darrel Brown and Marc Burns respectively, while Bolt remained behind in the under-17 division where he dominated the 200 and 400.
#As fate would have it, Ifill III suffered a slight injury when Bolt climbed up the ladder to repeat the 200-400 feat in the under-20 boys division in 2002 in Trinidad & Tobago. Ifill III was unable to renew the rivalry with Bolt, although the two were at the 2004 games in Hamilton, Bermuda. Ifill III picked up the bronze in the 100 and Bolt claimed another title in the 200.
#While Ifill III went on to college and eventually retired from the sport before he landed a successful job on Wall Street, bolt decided to stay at home and train and has now emerged as the biggest name in the sport since the legendary American sprinter/long jumper Carl Lewis.
#"I wouldn't make a read through it whatsoever. I was more prepared and executed better on that particular day and in that meet," Ifill said. "In subsequent meets, you saw what he did relative to the rest of us and there's no doubt in my mind that he is a phenol, so I wouldn't make a read as to what would have happened if I had stayed in the sport.
#"In my view, I'm really happy with the path that I took. For many athletes, I took the road less travelled and having an academic balance, it allowed me to take a path to blaze new trails and hopefully inspire other people in terms of what other things that we can do with sports."
#Ifill, 27, is currently employed in Cross Access Sales at Goldman Sachs in New York – the number one investment bank on Wall Street.
#With the games returning to the Bahamas for the first time since Ifill III last competed in 2004, he said it's going to be quite a thrill for the Bahamian people, especially as the new Thomas A Robinson Track and Field Stadium will be christened with the hosting of its first major international meet.
#"I would have really loved the opportunity to perform in this new stadium," Ifill III said. "But I could speak to the fact that performing in front of the home crowd is something special and it's an experience that our athletes should be pretty happy about."
#For those athletes who have been selected to the 70-member team to represent the Bahamas this weekend, Ifill III advised them to carry the Bahamas' name well on their chest.
#"It's going to be very important to defend the home track," he said. "Jamaica is going to do what they have to do and they are what they are and in many aspects, defending the home turf is more important than just winning medals. I think a lot of it will be just showing a lot of heart and leaving it all out on the track, in the field or in the pit.
#"If we're not winning, you want to just make whoever is ahead of you really earn it. What they will realise is that a few of them will go on to be Olympians, set records and win medals. But for many of them, this is going to be the highest achievement that they would have set, so they have to really enjoy the ride and don't take it for granted."
#Like he did, Ifill III said he hopes that the athletes can leave their own legacy behind that people will be able to look back on in years to come and talk about what they achieved.
#"At some point, it's going to all come to an end and the only thing that you will have is your memories," he said.
#Ifill, who captured about 10-12 medals including relays during his five appearances in the games, graduated from St Augustine's College and enrolled in Clemson University for his freshman year. After taking a year off to train professionally, he transferred to the University of Pennsylvania before he started working at UBS Investment Bank for a few years and then three years ago he moved to Goldman Sachs.
#"I started early in track and field and I was able to have some great experiences early in my career that set me up," he said. "I was fortunate enough to have my parents supporting me to get a good academic background and that afforded me some other opportunities, so I couldn't dream of being in a better place right now."
#Ifill III is scheduled to visit home today to lend his support to Team Bahamas during the games this weekend.