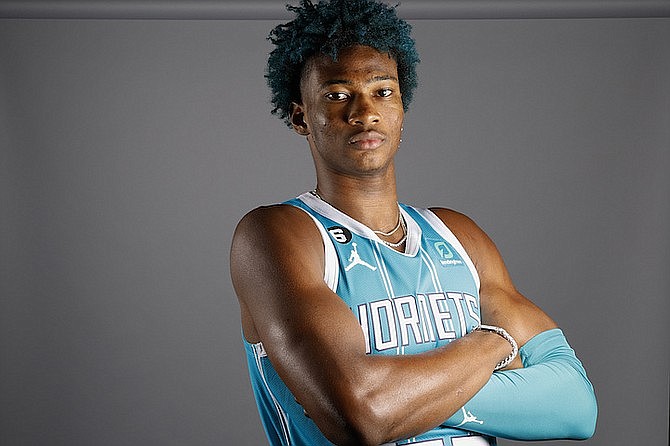 Kai Jones
As of Thursday, October 12, 2023
#By TENAJH SWEETING
#Tribune Sports Reporter
#tsweeting@tribunemedia.net
#The Charlotte Hornets yesterday waived Bahamian big man and former first-round draft pick Kai Jones.
#The announcement was made by Mitch Kupchak, the team's president of basketball operations and general manager, just two days removed from the centre/forward's public request for a trade via the X social media platform.
#Jones made headlines for some questionable actions in the National Basketball Association's (NBA) offseason and the latest news appeared to be the final straw for the Hornets organisation.
#Before the Eastern Conference team's latest announcement, Jones was at risk of facing a maximum fine of $150,000 or possible suspension after he tweeted his desire to be traded on Monday night.
#"I have officially requested to be traded from the Charlotte Hornets. #GOATLIFE" he posted.
#The move sparked discussions as it went against Section 18 of the National Basketball Players Association's (NBPA) Collective Bargaining Agreement (CBA).
#The CBA states that any player or, for clarity, any player representative or person acting with authority on behalf of a player who publicly expresses a desire to be traded to another team shall be subject to a fine and/or a suspension.
#Prior to the 6-foot-11 player's trade request, the Hornets had announced that Jones would not be joining the organisation's training camp which began in October due to personal reasons.
#Additionally, they said he would be away from the team indefinitely and were unable to give an estimated timetable on his possible return to team activities.
#"Kai Jones will not participate in training camp due to personal reasons. There is currently not a timetable for his return to the team. "Out of respect for the personal nature of the situation, the Hornets will not have any additional public comment regarding the matter at this time," the Hornets statement read.
#The organisation made the call in this regard after Jones displayed some odd behaviour on social media during the NBA offseason.
#It started in September when the centre/forward went on Instagram Live and was sweating profusely and spoke in an incoherent manner. He then turned his attention to teammates Lamelo Ball and Brandon Miller, who he publicly criticised on the X platform later in the month.
#The sudden chain of events for Jones has been bizarre to some as the Bahamian big man made waves this July in the NBA Summer League after dunking over the 2023 no.1 pick Victor Wembanyama.
#In his tenure with the team that drafted him as the 19th pick in 2021 out of Texas, he averaged 2.7 points per game and two boards in 9.1 minutes per game.