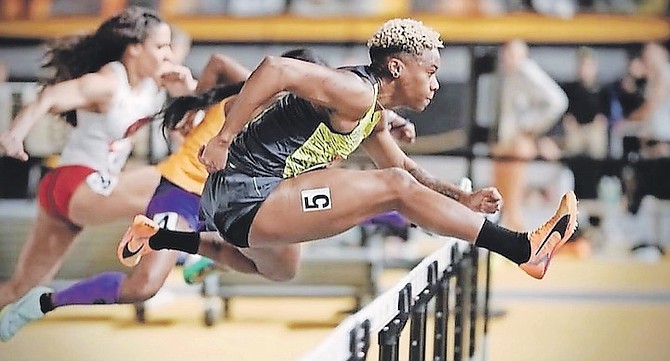 DEVYNNE Charlton in action in the women's 60m hurdles.
As of Wednesday, January 25, 2023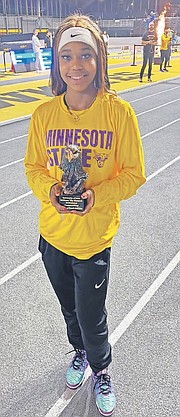 DENISHA Cartwright with her Female Athlete of the Meet award.
#By BRENT STUBBS
#Senior Sports Reporter
#bstubbs@tribunemedia.net
#ALTHOUGH she doesn't have a major indoor championship to compete in this year, national record holder Devynne Charlton said she's pleased with her progress so far in the women's 60 metres hurdles.
#While she used her appearance at the Larry Wieczorek Invitational at the University of Iowa to gauge where she's at right now, she even thrilled to see how well collegian Denish Cartwright, who was named the Female Athlete of the Meet, performed against the world-class field in the Hawkeye Pro competition.
#Charlton, competing for Puma, finished second in the final of the event in 7.89 seconds behind American Alaysha Johnson, who did 7.84. Cartwright, a junior at Minnesota State, was fifth in 8.16.
#In the preliminaries, however, Charlton had the fastest qualifying time of 7.97 ahead of Johnson, who did 8.00. Cartwright got the third spot with an impressive time of 8.07, which was a new Minnesota State school record.
#"I felt pretty good about my performance, considering that last year was World Indoors and this year, there's none, but I'm pretty much ahead of where I was then," said Charlton, who went on to win the silver medal at the World Indoor Championships in Belgrade, Serbia.
#"It all bodes well for outdoors."
#Charlton said what she likes about Cartwright is that they are both pretty short for the event, so they tend to run the same type of style and so having her side-by-side, they were able to push each other along.
#Charlton, 27, also got a bronze in 100m hurdles and a silver on the women's 4 x 100m relay team at the NACAC Championships in Grand Bahama, after placing seventh at the World Outdoor Championships in Eugene, Oregon.
#She said she's looking forward to competing against the rest of the Bahamian hurdlers and hopefully team-up in a shuttle relay.
#With her performance, Cartwright is now fourth on the all-time Bahamian list behind Charlton, Pedrya Seymour and collegian Charisma Taylor. She admitted that she was shocked that she ran 8.07.
#"My team-mates were hyping me after I ran the race.
#"I just executed the race. I was shocked and I was surprised," she said.
#"I knew I had it in me to run that fast, but one of my coaches told me that I was still dragging my trail leg, so I know once I correct it, I can go even faster."
#Cartwright, who competed at the Commonwealth Games last year in Birmingham, England, said it worked in her favour to run next to Charlton in the race.
#"I knew she was going to push me," Charlton said. "So, I just decided to chase her and go for it because I knew she was going to be one of the favourites to win it."
#In addition to the hurdles, Cartwright also clocked 7.37 for sixth place in the 60-metre dash against a field that included two other Division I athletes, two post-collegians, and two professionals.
#Cartwright, 23, also picked up a second-place finish in the 200m in 23.87 behind Iowa's junior Lasarah Hargrove, who won in 23.79.
#While that meet was going on, Charlton's younger sister Anthaya Charlton, a sophomore at the University of Kentucky, led a small field of competitors at the Red Raider Open at the Sports Performance Center in Lubbock, Texas with a triple appearance.
#Her best performance came in the women's long jump where she soared 19-feet, 9-inches or 6.02 metres for fourth place on her first attempt. She also did 19-2 3/4 (5.86m), 19-1 1/2 (5.83m), 19-4 3/4 (5.91m), 19-6 (5.94m) and 19-8 1/4 (6.00m) on her next five jumps.
#The winning leap was 20-9 (6.32m) by Texas A&M junior G'Auna Edwards.
#Charlton was also third in her heat of the 200m in 24.62 for tenth place overall.
#In the preliminaries of the women's 60m, Camille Rutherford, a sophomore at Texas A&M, was second in her heat to finish ninth in 7.44 and Charlton was also second in her heat for 10th in 7.45, but they both missed qualifying for the final.
#On the men's side, Wanya McCoy, a sophomore at Clemson, was fifth in the final of the 60m in 6.69. The winning time was 6.55 by Jordan Anthony, a freshman at Kentucky. In the preliminaries, McCoy was sixth after he placed second in his heat.
#McCoy, with a split of 46.86 on the first leg, helped Clemson's team of Tares Rhoden, Cameron Rose and Daniel Kidd do 3:07.78 for fourth place in the men's 4 x 400m relay. Texas Tech took the victory in 3:04.52.
http://www.tribune242.com/news/2023/jan/25/charlton-and-cartwright-star-larry-wieczorek-invit/?news