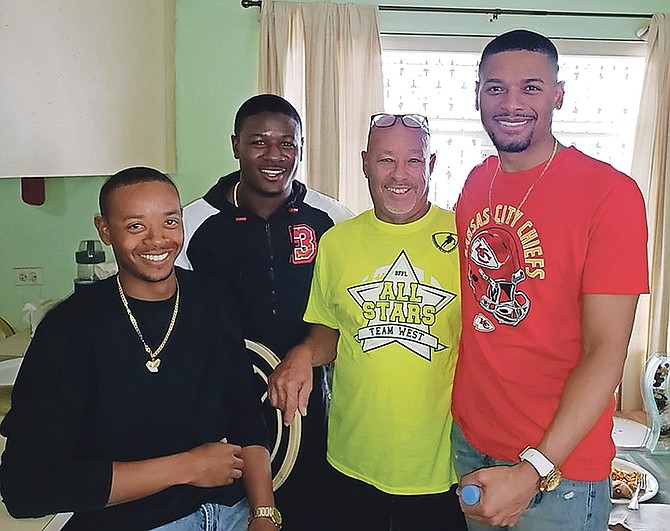 NFL Super Bowl champion Rashad Fenton (second left) poses with Cory, Chester and Jory Fox during a visit to Nassau on a cruise ship.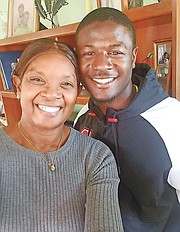 NFL Super Bowl champion Rashad Fenton with his aunt Diedre Fox on his visit to Nassau on a cruise ship on Sunday.
#RASHAD Fenton, of Bahamian descent, who helped the Kansas City Chiefs to win Super Bowl LIV on February 2 in Miami, Florida, came to Nassau on Sunday on a cruise ship to spend some time with his local family.
#Fenton won a Super Bowl ring at Hard Rock Stadium — the same stadium where he used to serve food and drinks. The Chiefs defensive back used to walk four blocks from his house to serve food and drinks at the stadium when he was in high school. He is the son of Bahamian Laurie Fenton, who moved to Miami to attend college.
#The Chiefs defeated the San Francisco 49ers 31-20 to earn the franchise whose founding owner had named the game its second Lombardi Trophy and first since 1969.
#The old Kansas City teams were known for their ability to back an outward cool with dominant play on the field – Hank Stram dialing up unthinkable plays to the cigarette-smoking Len Dawson. This time they did it with a wise-cracking, Hawaiian shirt-wearing, cheeseburger-eating mad scientist as a coach and his quarterback creation conjured from every defensive coordinator's worst nightmares.
#During his visit to the Bahamas, Fenton spent time with some of his family members, including his uncle and aunt Chester and Diedre Fox from Long Island and their twin sons Cory and Jory. They spent time reflecting on the Chiefs' victory over dinner.