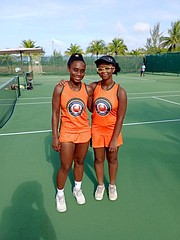 Sisters Sydney, left, and Sarai Clarke played with each other for the first time as they partnered in the ladies' doubles as the Andros Chickcharnies secured the gold medal over the Grand Bahama Lucayans at the sixth edition of the Bahamas Games at the National Tennis Centre last month. Photo: Tenajh Sweeting/Tribune Staff
#By BRENT STUBBS
#Senior Sports Reporter
#bstubbs@tribunemedia.net
#THEY'RE sisters, but sooner or later Sydney and Sarai Clarke know that they will have to face each other on the opposite side of the net in a tennis march.
#The duo got a chance to play with each other for the first time as they partnered in the ladies' doubles as the Andros Chickcharnies secured the gold medal over the Grand Bahama Lucayans at the sixth edition of the Bahamas Games at the National Tennis Center last month.
#The 14-year-old Sarai has been following in the footsteps of her 21-year-old sister, Sydney, whom she considers to be her role model in the sport ever since their parents Shayvon and Bernard Clarke got them involved.
#"I decided to play tennis because of her," said Sarai, who is now attending the Webb School where she is one of the top tennis players. "I wouldn't be playing tennis without her. Everything that I learned about the game, I got it from her."
#Since she got started at the age of nine, Sarai said it's been an interesting journey for her, but with Sydney there to motivate her, she's been able to overcome her obstacles.
#Sydney, who has enjoyed a wealth of success as the top junior player before she moved up the ranks as a senior, said she's seen a lot of similarities in Sarai, including their height.
#"In watching her, I notice that we play similar to each other, especially in our serves," the older Clarke lamented of her younger sister. "She's like a splitting image of me. It's funny, but it shows the bond that we have and how close we are, so I really enjoyed playing with her in the Bahamas Games for the first time in doubles."
#On getting the opportunity to play together in doubles, Sarai said it meant the world to her.
#"She's been playing doubles and the fact that she's my sister means a lot because she really pushed me in that match," said Sarai as they lost 6-3, 6-1 to the Grand Bahamian veteran duo of Larikah Russell and Simone Pratt. "It was a good learning experience for us."
#Sydney will he heading back to Birmingham, Alabama, and the University of Alabama at Birmingham for her final year with the Blazers women's tennis team. She said she's looking forward to having a banner year.
#Sarai will be heading back to Webb School in Tennessee for her second year. She noted that she's gained a lot of experience and although she misses home, her family and the beach, she's looking forward to improving on her game as she remains in the top spot on the team.
#While Sarai is still a junior, Sydney said she's hoping that she will eventually catch her up to the point that they get to play together on the national team, preferably at the Billie Jean King Cup where Sydney is now making her fifth appearance in the Dominican Republic.
#She's playing there this week along with Elana Mackey, Pratt and Saphire Ferguson with former long time national champion Kim O'Kelley as their captain on Team Bahamas as they compete in the Americas Group II .
#"We spent a lot of time practicing together this summer," Sydney pointed out. "So I'm looking forward to seeing where her game goes in the future."
#And, as the leader of the two, Sydney said she knows Sarai will get a chance to surpass her achievements, but it will come with time.
#"It's my time now. She just has to wait," Sydney stated. "If and when it does, I will be happy because she is improving. But, at the end of the day, it will only cause me to push myself harder because I know she's coming. She's still young, so I have the respect, but I am getting older.
#"So I will be looking forward to the day when she challenges me. But I am just glad to have her following in my footsteps."