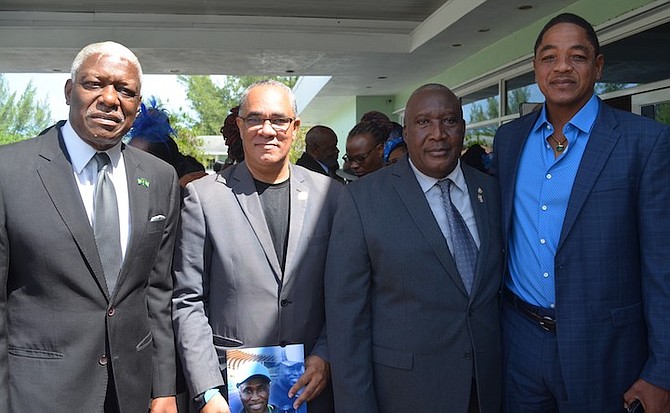 Shown, from left to right, are track and field officials, NACAC president Mike Sands, technician Rev Trevor Moss and coaches Rupert Gardiner and Shaun Miller Sr.
As of Wednesday, September 27, 2023
#By BRENT STUBBS
#Senior Sports Reporter
#bstubbs@tribunemedia.net
#SCORES of Bahamians showed up at the Christian Life ministries to pay their last respects to the late coach Franklyn Williams, who was lauded as an "unsung hero" for the role he played in the development of so many young track and field athletes.
#The 63-year-old Williams, the coach of the 4-D Stallions, was laid to rest in his coffin with his trademark cap, whistle and toothpick in his mouth before he was funeralised and interred into Woodlawn Gardens.
#Officiating were Rev Trajean Jardorette and associate pastor Carolyn Gordon.
#Also in attendance were Rev Dr William Thompson, Rev Patrick Paul and district elder Portia Ferguson, who all participated in the service.
#In giving his condolences, the senior pastor at Faith United Missionary Baptist Church called Williams an "unsung hero," who may never get the credit that he deserves for what he has done in transforming the lives of the members of the 4-D Stallions Track Club.
#He encouraged the athletes who were highlighted to show their appreciation to coach Williams by continuing to be disciplined and dedicated to the sport. It was a similar message that was given by coach Williams' only living brother Kevin and Albert Gaitor, who was instrumental in getting the club started.
#The former distance runner, who attended the Big Pond Primary School, CH Reeves Junior High, RM Bailey Senior High and the College of the Bahamas, began his employment as a member of the Royal Bahamas Police Force.
#After serving for three years, he became a certified electrician. However, Williams; ventured back to his first love, track and field, as he got two of his eight children, Mizpha and Franklyn Williams Jt to follow in his footsteps. They took it a bit further as they went on to represent the Bahamas at the CARIFTA Games.
#He eventually formed the 4-D Stallions, using the logo "Desire, Determination, Dedication and Discipline," in the Bahamas Association of Athletic Associations. BAAA's president Drumeco Archer lauded coach Williams for the remarkable job he has done with the club, producing one of the bright young stars on this year's CARIFTA team in Darvinique Dean, who is now a member of the Red-Line Track Club and a student of St Augustine; College.
#His brother Kevin told about how coach Williams was actively involved in Church and together they sang with their other deceased brothers in a popular group called the "Gospel Brothers." He noted that not having a car, coach Williams was dedicated to fulfilling his obligations and on time to his family, Church, work and the 4-D Stallions.
#Williams was married to Audrey Williams and along with their children, he leaves behind four sisters and a brother. His only uncle Ronald Williams said coach Williams will be sorely missed because he was so committed to living his life to the fullest.