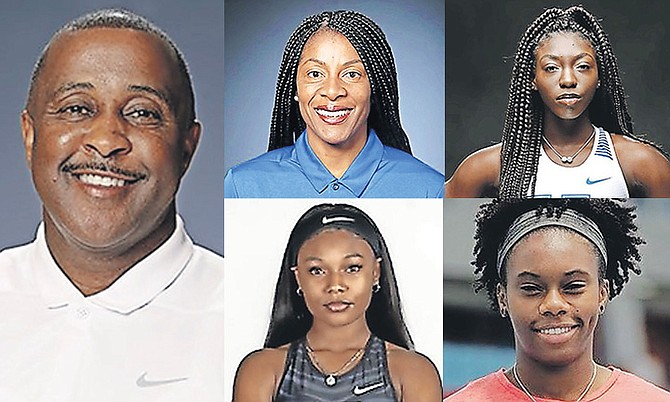 Clockwise from left: Rolando Greene, Debbie Ferguson, Megan Moss, Devynne Charlton and Jaida Knowles.
#By BRENT STUBBS
#Senior Sports Reporter
#bstubbs@tribunemedia.net
#Their season won't start until next weekend but, by then, head coach Rolando 'Lonnie' Greene expects to be out of his coronavirus pandemic quarantine and back on the sidelines with his University of Kentucky Wildcats track and field team.
#Greene, who now heads a Bahamian connection of coaches and athletes for the Wildcats after he left his coaching chores with the Boilermakers at Purdue University in 2018, has been confined to home for the past week as he recuperates from the symptoms of the deadly virus.
#"The Bahamian girls have had great falls," said Greene as he looks ahead to the participation of sophomore quarter-miler Megan Moss, freshman sprinter Jaida Knowles and volunteer assistant and professional hurdler Devynne Charlton as they prepare to compete in the McCravy Green Invitational (Indoors) next weekend.
#"I haven't seen them since they got back from the Christmas break because I was diagnosed with COVID-19. I have been quarantined and away from everybody. My assistants were handling everything."
#Prior to the break, Greene said Moss was in phenomenal shape and she constantly communicated with him on her progress when she was in Chicago over the Christmas holidays.
#"She is in some phenomenal shape right now," he said of the 18-year-old who was named The Tribune's Junior Female Athlete of the Year after running her season's best of 24.09 seconds in the 200m and 52.58 in the 400m before the pandemic struck in March.
#"The key is to keep Megan healthy. Once she does that, she will be fine."
#As for Knowles, who was joining her former St Augustine's College team-mate in her first year at Kentucky, Greene said she suffered a slight injury just before Thanksgiving, but they managed to get her properly healed and ready to compete again.
#"I haven't seen her since she came back here either," Greene said. "But I'm expecting great things from her. I'm one of those coaches, if I recruit you on a scholarship, I expect you to perform both academically and athletically.
#"Jaida is a fine young woman. She's just like (Megan) Moss.
#"But I think they are going to be fine. We're going to be fine as a programme. We just need to be patient and cook the broth the proper way and not get ahead of ourselves."
#As he reflected on his own personal battle with COVID-19, Greene asked Bahamians to protect themselves because "the virus is real.
#"Don't let no one tell this isn't real. This stuff is real. I have everything. Every symptom. I got so emotional the other day that I told my wife, LaTayna, that if I die, she will have enough money to take care of herself and the boys (Cameron, Isaiah and Jacob). That's what I felt like, like I was dying. "I don't have any breathing issues. I'm good. Don't let those intellectuals try to tell you otherwise. I'm a man of faith, but the virus is real. I'm living it right now."
#On day four of going through the easy stages, Greene said he slipped and fell in his bathroom and suffered a bruised nose. He said he felt better whenever he got to use the bathroom.
#"This stuff is real," he stressed. "When I get through this, I will tell my full story of what I had to go through. I've documented everything and I will post it. So protect yourself."
#With some very good assistants, including Bahamian "Golden Girl" Debbie Ferguson-McKenzie, who came over from the University of Houston, Greene said he was able to monitor everything from home as they worked with the athletes as they prepare for their first meet next weekend.
#Also expected to compete in the meet is Charlton, who serves as a volunteer assistant, as she trains for the postponed 2020 Olympic Games that is expected to be held this year in Tokyo, Japan.
#"I was really looking forward to her competing in the World Indoors, but this virus has got the whole world on a standstill, so they cancelled the World Indoors," said Greene of Charlton, who came over from Purdue University to train with her former Boilermakers' head coach after she graduated.
#"So all we can do is take our time and get ready for Tokyo. We'll adjust training and just get ready for Tokyo. She's doing exceedingly well. She will be just fine this year."
#Greene is also expecting to be "fine" after he completes his quarantine period this weekend. He said he probably won't make any personal contact with the team until Monday or Tuesday just as a precaution.
#"I don't have to be there. It's just like we haven't missed a beat," he said. "But the kids have been calling and texting asking me if I'm okay. So that has blessed my heart.
#"Megan texted me and said coach I haven't seen you since I got back. So it's things like that has helped me to get through my ordeal. As a team, we will be okay."
#The 54-year-old Greene said unlike him, because of his age, he's more receptive to the symptoms than his athletes.
#Kentucky is competing in a bubble with the other schools in the Southeastern Conference where they all have to compete on the same weekend.
#"I thought we had a very good team to compete at Nationals this year, but delay doesn't mean denial," Greene said. "We still have a team to make a push at it."
#Kentucky's home meet next weekend will only allow them to accommodate about 450 persons, including the athletes, coaches and officials, although they can hold over 3,000.
#"They will warm up in the stadium and then come into the indoor stadium to compete," Greene said. "It won't be like the regular track meet. We won't have a whole lot of people all over the place.
#"The kids who are going to be competitive will be competitive. I remember Sydney Cartwright when he was coaching in the Big Ten at Minnesota and I was at Arkansas. He said if you put horses on the track, they will run. So that stayed with me. The SEC is that type of league. You put them on the track and they will run. We are very competitive."
#Before he went to Purdue in 2012, Greene served previously for 16 seasons as an assistant in the SEC, so he said he's quite familiar with the competitiveness of what is arguably the toughest in college sports.
#After graduating with his B.S. from Murray State in 1989, Greene began his tenure with Missouri State University from 1991-95, the University of Minnesota from 1995-96 and the University of Arkansas from 2000-2012.
#While he is expected to be back with the Wildcats when they host the McCravy Green Invitational next weekend, Kentucky has at least three more meets to compete in before they get ready for the SEC Championships, scheduled for February 25-27 in Fayetteville, Arkansas.
#If all plans for the rest of the season go through and they have any qualifiers, the indoor season will conclude with the NCAA Indoor Championships March 11-13 also in Fayetteville, Arkansas.