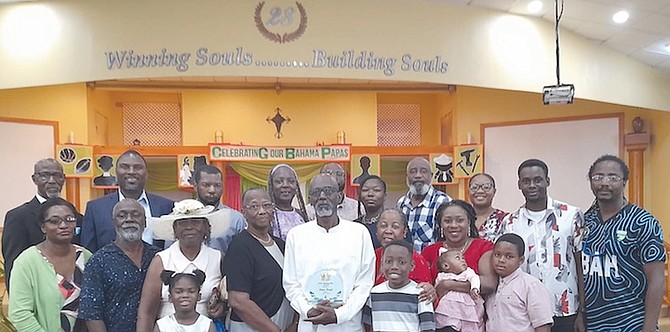 FORMER triple jumper turned coach Peter Pratt (white shirt) is flanked by family members, friends and members of the Bahamas Association of Athletic Associations (BAAA), including president, Drumeco Archer. Pratt was presented with a plaque at Christ Community Church with the "First Among Men'' award.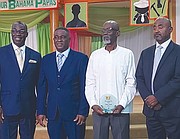 Elder Stephen Lindsay, Pastor for Men's Ministry Deacon Bertram Cartwright, Director of Men's Ministry, Peter Pratt, honoured as first Bahamian CARIFTA medallist in 1973, as a nation builder by Christ Community Church, Elder Elvin Taylor, Lead Associate Pastor, (from left to right)
#By BRENT STUBBS
#Senior Sports Reporter
#bstubbs@tribunemedia.net
#While he had hoped to be honoured during the hosting of the 50th anniversary of the CARIFTA Games for being the first Bahamian to win a medal, former triple jumper turned coach Peter Pratt said he was glad that his church gave him the recognition.
#With his family and members of the Bahamas Association of Athletic Associations, headed by president Drumeco Archer, Pratt was presented with a plaque at Christ Community Church with the "First Among Men'' award.
#The presentation was done by a trio of men of the church, including Elder Stephen Lindsay, pastor of the men's ministry, Deacon Bertram Cartwright, the director of the men's ministry and Elder Elvin Taylor, lead associate pastor.Also in attendance were Harrison Petty, the founder of the Parents Association of Track and Field Athletes, which assists athletes in getting off to college, triple jumper turned coach Antonio Saunders, a protégé of Pratt and Foster Dorsett, the first vice president of the BAAA.
#"Church is different from the country. The church did what it is supposed to do," Pratt said.
#"I'm alright with what the church did. I felt I would get it in other places if the country doesn't do it."
#In 1973 in Port of Spain, Trinidad & Tobago, Pratt became the first Bahamian to win a medal at the CARIFTA Games, securing the bronze in the men's triple jump.
#Pratt, a versatile soccer, volleyball, basketball and track and field athlete, attended Mankato State where he was inducted into the Athletic Hall of Fame twice.
#He was an NCAA champion, a three-time All-American and was a 15-time winner of the North Central Conference champion from 1973-1977.
#"I feel good about what I have achieved. A lot of people have recognised me internationally for what I did both locally and internationally," Pratt stated.
#"I remember when I was in Korea with the Asian Games, the people put me up on the screen and said where I came from. More than half a billion people watched it. That was a plus for me because I know it could never happen in the Bahamas."
#There's a saying that a "prophet is not received in his own home" and Pratt, in agreeing to the term, said if he was recognised in the Bahamas for his achievement, then he would no longer be a prophet.
#"I still remain a prophet in my country," he said. "If something happened, then I would no longer be a prophet."
#Now that he's officially retired, Pratt, who started coaching in 1972 when he began teaching at Highbury High, now RM Bailey Secondary High, said he's looking at embarking on a new venture.
#"I'm helping some young adults to better their craft as jumpers," said Pratt, who also works along with Petty with the Parents Association. "I'm just relaxing and enjoying the little bit of fruit that I get for my labour."
#The 68-year-old Pratt, known as the 'Jumps Coach Specialist,' has also worked with the Bahamas Association for the Physically Handicapped and Special Olympics Bahamas,
#As a Level V International Amateur Athletic Association's certified coach, Pratt has conducted a series of coaches' education lecturing coaches and clinics for the United States of America Track and Field (USATF) and the North American, Central American and Caribbean (NACAC) regions.
#Pratt said he just hopes that other persons who feel they have not been recognised for their accomplishments will not hold any grudges against the powers that be in the country. Instead, he said he hopes they will take it with a grain of salt and wait until their names are called.
#Pratt is married to Mona Pratt and the father of four, Brent Moore (Thiombe) in Dallas, Texas, Rio Pratt (Jennifer) in North Carolina, Kirby Pratt-Thompson in Tampa, Florida and Jamieson Pratt (Chanel), who is in Nassau following in his footsteps as a coach.