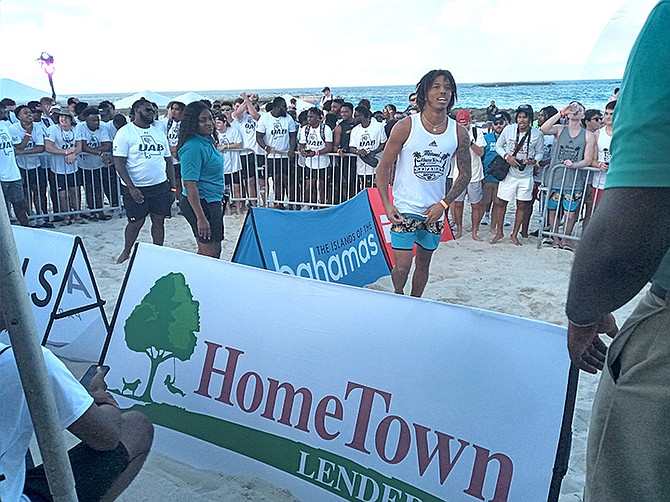 FUN TIME: Players from UAB and Miami get ready to participate in a dance off on the beach at the Atlantis resort.
As of Wednesday, December 14, 2022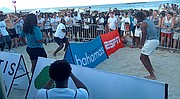 FUN DAY OFF: Players from UAB and Miami participate in a dance off on the beach at the Atlantis resort.
#By BRENT STUBBS
#Senior Sports Reporter
#bstubbs@tribunemedia.net
#It was a day of fun and relaxation for the college football teams yesterday after they arrived in town on Monday for the HomeTown Lenders Bahamas Bowl.
#Both the University of Alabama at Birmingham (UAB) Blazers and the Miami RedHawks took advantage of yesterday's free day by participating in a beach bash that was held at the Atlantis resort ahead of their big NCAA football match-up at the Thomas A Robinson National Stadium on Friday.
#The two teams come in evenly matched at 6-6 but are confident that they will hoist the trophy as the new champions in the match-up between the Mid- American Conference and Conference USA in the longest running international bowl game in college football history.
#This is the seventh edition of the bowl, which got started in 2014, but was cancelled in 2020 due to the COVID-19 pandemic.
#While UAB, coached by Bryant Vincent and representing Conference USA, is back for its second appearance after finishing as the runners-up in 2017, it's the first trip here by Miami, coached by Chuck Martin and competing for the Mid- American Conference.
#The majority of the players are making their maiden voyage here and have been pleasantly surprised by what they saw so far from the time they arrived at the Lynden Pindling International Airport to their home destination at Atlantis.
#"It's been a wonderful experience so far, coming out here and kicking it with the guys," said UAB quarterback Mac McWilliams. "It's a lifetime experience, so we're happy to be able to enjoy the breeze and the sea."
#The 5-foot, 10-inch, 185- pound McWilliams, who hails from Pensacola, Florida, said he's been eating and going to the casino, having some fun. But he's eager to get on the field and help the Blazers pull off the win.
#"We had our ups and downs all season, but we just came here to win," he said.
#"We know they (Miami) are a good team, but we're not concerned about them. We just came here to win."
#Tight end Bryce Damous, who stands at 6-2 and is 230lbs, said he's loving everything about the Bahamas.
#"Honestly, when you see the pictures, it doesn't really do justice," he said. "Compared to when you are here, it's so much different than what I saw in the photos. I'm really loving it. It's beautiful. I'm enjoying myself."
#Like McWilliams, Damous, who hails from Huntington, West Virginia, the goal is to win the game.
#"That's our main objective. We want to have fun and enjoy the trip, but it's a business, at the end of the day," he stated. "We're trying to win this game for sure."
#Once they can come out and play "hard" and display their traditional "aggressiveness," he doesn't see why they can't win the game.
#Of course, he admits that Miami will be tough because they made it to the bowl game, but they just want to take care of the reason why they came here and that is to win.
#Miami's linebacker Matt Salopek begs to differ.
#"You can expect a very good, exciting team that will come out here and play," said the 6-1, 220lbs Salopek. "We have a very good team with a lot of gritty guys, who just love to come out and play football and want to win."
#Salopek, however, did admit that UAB has a solid team and are well coached, so he's anticipating a very good, hard-fought game.
#For Salopek, this is his second trip here.
#He was here when he was about 11 or 12 on a cruise ship, but never envisioned the island was as "beautiful" as it is.
#"The people are awesome, the hospitality is awesome, and the scenic view is just beautiful," as he described his experience here so far. "Overall, this is just a great place."
#Ja'Von Kimpson, a defensive back, said while this is his first time here, it's the "best trip" that he's ever been on in the Caribbean.
#"Atlantis is really nice. It's a lot better than I really expected it to be," he quipped. "We've been walking around taking pictures of everything because everything looks so beautiful.
#"We've been looking at all of the fish and doing the water rides. It's just been good. It's a lot of fun."
#Come Friday, Kimpson said they hope to take care of the job at hand.
#"It's going to be a good game. UAB is not a bad team. They're pretty good with a nice offence and a nice defence," said the RedHawks' 5-11, 192-pounder.
#"So, we will have to be on top of our game. It's going to be a great game. It should be high intensity, but we should win at the end."
#The game is scheduled to start at 11:30am on Friday and will be carried live on ESPN. There will be free admission for the general public.
http://www.tribune242.com/news/2022/dec/14/college-football-teams-are-ready-bahamas-bowl/?news