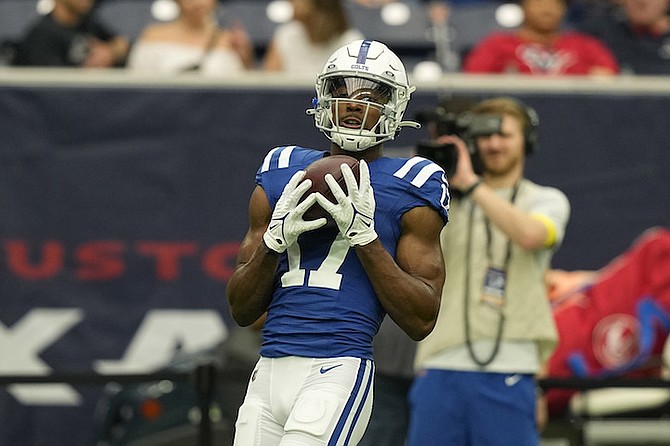 Indianapolis Colts wide receiver Mike Strachan (17) catches a pass before an NFL football game against the Houston Texans Sunday, Sept. 11, 2022, in Houston. (AP Photo/David J. Phillip)
As of Monday, September 12, 2022
#By RENALDO DORSETT
#Tribune Sports Reporter
#rdorsett@tribunemedia.net
#FOR the second consecutive season, Mike Strachan factored into the Indianapolis Colts' passing game.
#Strachan was targeted twice and finished with two catches for 26 yards in the Colts' 20-20 tie with the Houston Texans yesterday at NRG Stadium in Houston, Texas.
#In week one of the 2021 season, Strachan finished with two catches for 26 yards in the Colts' 28-16 loss to the Seattle Seahawks.
#Strachan's standout performance last training camp led the seventh round pick in the 2021 NFL Draft, to a spot on the 53-man opening day roster.
#He began the year with appearances in the first two games of the regular season but played sparingly for the remainder of the campaign.
#This season, he successfully overcame an offseason injury and a late start to training camp to make the Colts' opening day roster. He was listed as fifth in the depth chart of wide receivers ahead of week one.
#After nearly three weeks on the Physically Unable to Perform list, he returned to the practice field and had enough of an impact to return to the roster for his second campaign with the club.
#The second year wideout finished his two preseason appearances with four receptions for 56 yards and a touchdown.
#Indianapolis head coach Frank Reich said he was impressed by Strachan's ability to return to the field and produce immediately.
#"It's seemed like he's gone from zero to 60 in a second," Reich said. "There was a couple of weeks back I was thinking, I'm not even sure he's going to be ready to practice until the season opener.
#"Then, all of a sudden, he made a speedy recovery, and next thing you know he's out there catching a big-time touchdown in this game today. Credit to Mike and credit to our training staff."
#The Colts will travel to TIAA Bank Field to take on the Jacksonville Jaguars, next Sunday, September 18.
http://www.tribune242.com/news/2022/sep/12/colts-strachan-makes-his-season-debut/?news