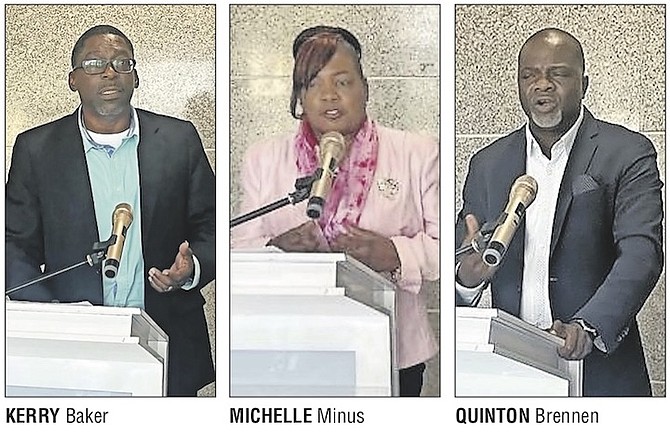 As of Friday, October 14, 2022
#By BRENT STUBBS
#Senior Sports Reporter
#bstubbs@tribunemedia.net
#FIRST Class Promotions' return to professional boxing after almost a decade-long hiatus is all set with the staging of the all-female boxing show on Friday, October 28th at the Kendal Isaacs Gymnasium.
#The "Fight for the Cure" show, which is being held in recognition of Breast Cancer Awareness Month and will feature two title fights between overseas fighters, got the endorsement from the Ministry of Youth, Sports and Culture on Thursday at the press conference in the foyer of the Thomas A. Robinson National Stadium.
#Kerry Baker, a former basketball player, represented Minister of Youth, Sports and Culture Mario Bowleg at the press conference that included First Class Promoter Michelle Minus and Quinton Brennen of QB Events Consulting and Marketing.
#Baker said the ministry is throwing its support behind the event and is hoping that it will inspire young boys and girls will pick up their gloves and get into some wholesome sporting activities rather than resorting to a life of crime.
#"We understand that there will be two title fights. That is going to be interesting," Baker said. "When you talk about cancer, just about everybody is affected. I know I had a sister who passed away from cancer.
#"So, I'm 100 percent in support of this event and I know the ministry is 100 percent in support of this event as well. This is the first time for an all-female event in the Bahamas and the Caribbean, so let's come out and support the event."
#Featured in the main event will be Jessica Camara from Montreal, Canada, with a 10-3-0 win-loss-draw record, against Halanna Dos Santos from Santo Domingo, Dominican Republic, who is 14-9-0, in a 10-rounder for the World Boxing Association (WBA) 147 pounds title.
#In the American co-main event, Mary McGee from Chicago with a 27-4 record will face Prisca Vicot of California, who is 14-8, in another 147lb class bout. Two other bouts will showcase American O'Shea Jones from Philadelphia, who is 1-0, against Simone Silva from San Palo, Brazil, who is 17-22, in the 160lb class and American Logan Holler from Fort Lauderdale, Florida, with a 9-2-1 record, against Adriana Arnajou, also from San Paulo, Brazil, who is 6-1, in the 140lb class.
#Brennen said the event is about more than just boxing.
#"Boxing has taken a little hiatus over the past couple years, but what a way to come back at this point," he said. "And the way that this event is positioned, it's strategic in that in the month of October, which is Breast Cancer Awareness Month, we now have an all-female boxing match . . . we want to tie it with the beginning of Sports Month, which begins on November 1. But it's more than just that a boxing match. What we're trying to do with this, is we're paying homage basically to all of the abused women, rape victims, murder victims that has happened through and through the years. We've seen it over a period of time in our country and so it's more than just a boxing match. We're kind of saying now that it's the fight for the cure, that's what we're calling it. So we're basically going to pay homage to all of the women that have kind of experienced all of these things and that sort."
#Minus, one of two female promoters in The Bahamas, said people want to see a change and that is the reason why they have decided to put on the all-female show, as opposed to having male competitors.
#At the same time, she revealed that First Class Promotions is looking forward to staging a few shows that will have a combination of male and female competitors and all male casts as well in the future.
#"First Class Promotions is back after almost a decade of not promoting any professional boxing shows," she pointed out.
#While the show will be held in honour of the Breast Cancer and the Sister Sister Group, Brennen said they will also be recognising the legendary ailing Ray Minus Jr, who was the founder of Champion Amateur Boxing Club, which gave birth to First Class Promotions.
#"Ray Minus has made a major contribution to the sport of boxing," Brennen said. "He has literally put us on the map. He's that guy, coming up in our era, who was simultaneously with boxing. We hope to honour Ray Minus and a number of boxers, who went on to represent The Bahamas.
#"We are looking forward to honouring Ray Minus Jr in particular and other individuals like (Jermaine) Choo Choo (Mackey). So, we thank you for coming out and supporting this event."
#Minus, the former wife of Minus Jr, said they are looking forward to recognising him for his contribution while putting on the first all-female show in the Bahamas.
#Tickets are priced at $35 for general admission and $125 for VIP. All major cards will be accepted for payment. All persons attending are urged to wear something pink in recognition of Breast Cancer.
http://www.tribune242.com/news/2022/oct/14/come-out-and-support-fight-cure/?news