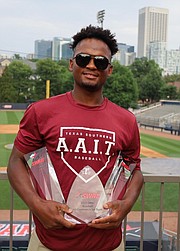 Daalan Adderley with some of his latest awards.
#By BRENT STUBBS
#Senior Sports Reporter
#bstubbs@tribunemedia.net
#UNLIKE many of his peers from the Junior Baseball League of Nassau who took the direct route, signing professional contracts to play baseball, Daalan Adderley decided to go through the collegiate ranks.
#He's reaping the benefits of his decision to play for Texas Southern University where he was just named a 2023 National Collegiate Baseball Writers' Association (NCBWA) Third Team All-American and a member of the NCAA Div. I Central All-Region Second Team.
#"I'm extremely happy to be honoured in this manner," Adderley said. "When I heard that they were honouring me, I couldn't believe it because I've never heard of any Bahamian achieivng what I did."
#The former Queen's College student, who went on to complete high school at McCallie Preparatory School in Chattanooga, Tennessee, finished the 2023 season ranked sixth nationally in batting average as he sported a .421 average. He also ranks third in the NCAA in on-base percentage (.541) and 21st in runs per game (1.25).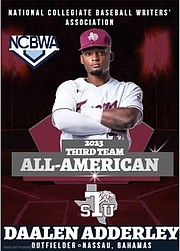 #He was also named as the 2023 SWAC Player and Hitter of the Year and selected to The Bobby Bragan National Collegiate Slugger Award (BBNCSA). He became TSU's first All-American since Kamren Dukes in 2018. Also in 2018, Dukes and Gaudencio Lucca were named to the ABCA/Rawlings NCAA Division I All-Central Region team.
#"This means a whole lot to me because, as a Bahamian, I am here representing the entire country," said Adderley, the only Bahamian playing on the team. "I realise that I am representing the country and so I was very happy to be able to accomplish what I did."
#Not only was he ranked nationally in the USA top 10, but Adderley finished sixth in the batting average; he was fourth in on base percentage; awarded the SWAC Player and Hitter of the Year awards; made the SWAC 1st team All-Conference; made the All-region and All-American teams; was the first captain on the MBP HBCU All-Star team; was on the 2023 Bobby Bargain Slugger Award list and was invited to participate in the HBCU swingman Classic.
#Additionally, the 21-year-old was named to the NCBWA Division One All American team and ABCA NCAA Division One Rawlings All Region Team.
#Looking back at his season, Adderley said it was beyond his expectations.
#"I think I was able to achieve the goals that I set out and I got to do a lot more," said Adderley, who just completed his junior year. "It was much more than I anticipated, so I'm really pleased with what I did this year."
#In the classroom, Adderley produced a 3.6 grade point average as he pursues his degree in General Science.
#He is the son of Lisa Adderley-Anderson and Dwight Adderley. He has an older brother, Dr Shae Adderley, whom he considers to be one of his role models. He also has another brother and two sisters.
#When asked why he decided to go through the collegiate ranks rather than signing a pro contract like the majority of his peers here at home, Adderley said he thought it was the best way for him to get to the Major Leagues.
#"The goal, hopefully if it comes my way, is to play in the Major League," Adderley said. "But me and my mom just decided that going to college and getting my education first was the best way for us to go and to get a chance to play in an international environment.
#"I have no regrets.
#"I have made the decision to go to college and as you can see, it's working out very fine for me, so I'm pleased with the decision that I made."
#Adderley, however, said with the opening of the new Andre Rodgers National Stadium, he hopes that he can one day come home and reunite with some of his teammates and represent the Bahamas in an international tournament.
#For now, he's just going to enjoy his collegiate experience as he goes through summer school and gets prepared to play in the HBCU Swingman Classic on July 7 during the Major League Baseball All-Star Classic weekend in Seattle, Washington.
#No doubt with the statistics he's produced during the season, Adderley is hoping to make an impact in front of the MLB scouts in his bid to become one of the next pro players for The Bahamas.