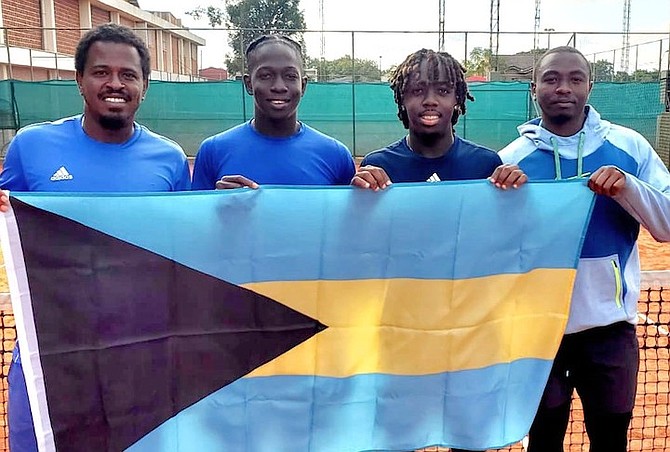 BAHAMAS Davis Cup team, from left to right, of captain Marvin Rolle, Donte Armbrister, Denali Nottage and Kevin Major Jr.
As of Wednesday, June 21, 2023
#By BRENT STUBBS
#Senior Sports Reporter
#bstubbs@tribunemedia.net
#It was another heartbreaking loss yesterday for Team Bahamas at the American Zone III Davis Cup Tie in Asuncion, Paraguay.
#After dropping a 2-1 decision to the Dominican Republic in their opening match in pool B on Monday, the Bahamas suffered a 3-0 whitewashing against the host Panama yesterday.
#In the first match against Paraguay, Denali Nottage of Grand Bahama went the distance, losing 6-3, 5-7, 6-2 to Martin Antonio Vergara del Puerto in a match that lasted two hours and 26 minutes.
#Kevin Major Jr, the top seeded player, played against Paraguay's top seed Adolfo Daniel Vallejo, losing in identical set scores of 6-4, 6-4 in one hour and 29 minutes.
#With the tie already wrapped up in favour of Paraguay, the Bahamas played in doubles with veteran Marvin Rolle teaming up for the second time with Donte Armbrister.
#But after winning the only match for the Bahamas on day one against the Dominican Republic, the Bahamas was unsuccessful against Paraguay, who came off a 3-0 sweep over Costa Rica in their opener on Monday. Rolle and Armbrister lost 6-4, 6-2 to Paraguay's duo of Vallejo and Vergara del Puerto. Paraguay wanted to make sure that they didn't give the Bahamas a chance against them.
#Rolle, the team captain, said despite the loss, the team played well.
#"Denali played a guy with points, so that gave him some confidence that he could go the distance," Rolle said. "It was definitely a tough match with long points, very emotional. He was giving it his all. He made the Bahamas proud."
#Reflecting on his performance, Nottage said as a rookie on the team, he felt he held his own.
#"I felt I played better than yesterday. I was nervous, overthinking from the start," he stated. "But today, I felt a whole lot more comfortable."
#As for Major Jr's match, Rolle said he was steady and solid.
#"It just wasn't his luck on his opponent's serve. Most games, KJ was up 30-0 and the guy just got lucky on a few points," Rolle said.
#"KJ is playing so well, but it's just those key points."
#Major Jr said it was a difficult time playing against Paraguay before their home crowd.
#"The guy came up with some really good shots in some key moments," Major said. "I did what I could. I just fell a little short."
#Against Costa Rica, Major said he's looking forward to getting the Bahamas in the win column.
#"From here on it, it's do or die. We can't afford to give away any more matches," he said. "We just have to keep on fighting."
#In their doubles match against Paraguay, Armbrister said he and Rolle played well.
#"The first set, it was very competitive. We ended up losing the first set by a few points," Armbrister said. "The second set, we started off good, but we got broken early to give our opponents the advantage.
#"But I was pretty happy with our performance. It was good playing with Marvin Rolle in these Davis Cup competitions. He's just a veteran in doubles, which makes my job easier., He just knows what shots to hit."
#Rolle said he enjoyed the experience playing with Armbrister as well.
#"We had a tough one. The guys played well. They got revenge from last year because I beat them last year. They say they were going to beat us to get their revenge," Rolle pointed out.
#"But it was a good match overall. We had our chances."
#Against Costa Rica today, Rolle said they just have to come out strong because they can't take any team for granted. He said they will definitely try to get in the win column.