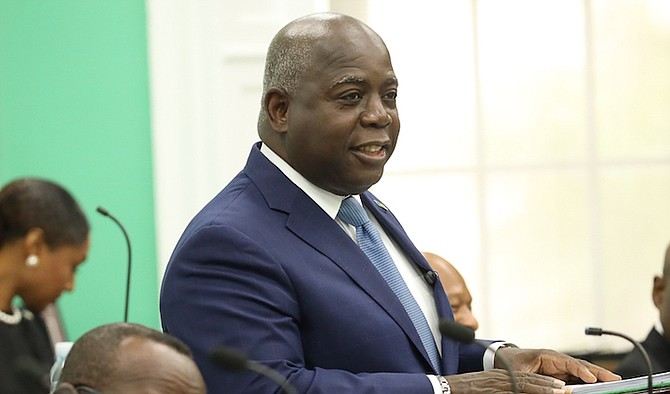 Prime Minister Philip 'Brave' Davis delivers the 2022/23 Budget Communication. Photo: Racardo Thomas/Tribune staff
#By RENALDO DORSETT
#Tribune Sports Reporter
#rdorsett@tribunemedia.net
#According to Prime Minister Philip Davis, the development of the local sporting community and the country's sports tourism product will figure prominently in his administration's plans for the immediate future.
#In his 2022-23 Budget Communication in the House of Assembly yesterday, the Prime Minister highlighted several initiatives, including both new and returning events.
#"We have already re-launched our 'Sports in Paradise' initiative to diversify our tourism product, and have already secured a pipeline of sporting events such as the Babe Ruth Caribbean Championships," he said. "We have also included a $1 million allocation to facilitate the hosting of CARIFTA, funding for our bid to again host the World Relay Games, funding to support the return of The Bahamas Games, and a 10 percent increase in grants for the Ministry of Youth, Sports and Culture."
#National Sports Authority Chairman Greg Burrows also serves as Babe Ruth Caribbean Region Commissioner.
#The tournament will be hosted July 7-11, 2022, featuring the under-12 division with about 10-12 teams participating in the Babe Ruth Region Caribbean Championship and 10 teams in the 16-and-under division for the International Baseball Tournament.
#Several countries are expected to field teams in both divisions, including The Bahamas, Curacao, US Virgin Islands, Mexico and Puerto Rico. In April, The Bahamas secured the bid to host the 50th edition of the CARIFTA Track and Field Championships, which coincides with the country's 50th anniversary of Independence.
#The Bahamas last hosted the event in 2017.
#The return of the Bahamas Games for the first time in over 20 years has been dubbed the "Golden Jubilee Games."
#The five previous versions of this Olympic-style festival occurred in 1989, 1991, 1995, 1998 and 2001.
#The World Athletics World Relays is also set to make its return to The Bahamas under the Davis administration.
#The Bahamas hosted the first three editions of the event from 2014-17 at the Thomas A Robinson stadium.
#It shifted to Yokohama, Japan in 2019 and Chorzow, Poland in 2021.
#Guangzhou, China will be the next hosts of the biannual event in 2023.
#Mr Davis said the financial support of elite athletes who represent The Bahamas internationally is a pillar of his administration's plan to continue the process of future athlete development.
#"Our athletes have contributed so much to The Bahamas. Their successes inspire our student-athletes at home and promote our country on the international stage," he said. "Recognising this, we have restored the funding to the Elite Athletes Programme as part of our effort to enhance support for our athletes and sporting programmes."
#Minister of Youth, Sports and Culture Mario Bowleg is expected to detail the further impact the budget will have on the local sporting landscape when he delivers his contribution to the House of Assembly.
#"This budget provides a foundation to strengthen our nation, to lift ourselves up, to face the future with strength and optimism," Davis said.
#"This budget provides support for the here and now, and also charts the way forward for a brighter tomorrow."