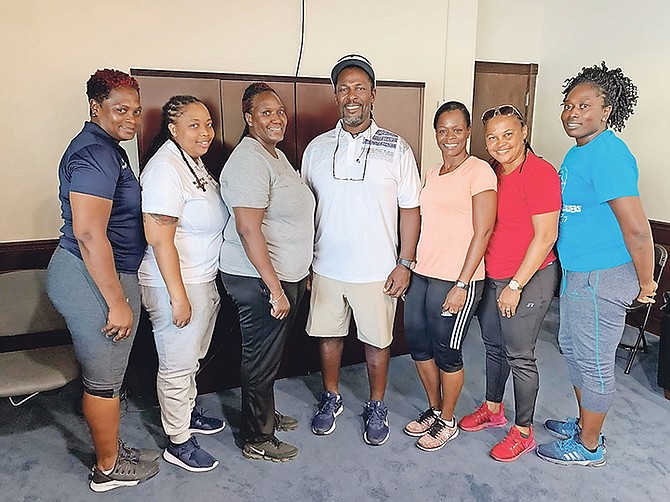 GSSSA newly elected officers pictured from left are Tia Rolle, Shakira Farrington, president Varel Davis, Kendal Campbell, Fiona Tucker, Keisha Pratt and Nikita Knowles.
As of Friday, September 20, 2019
#By BRENT STUBBS
#Senior Sports Reporter
#bstubbs@tribunemedia.net
#VAREL Davis has been re-elected to serve her third consecutive two-year term as president of the Government Secondary Schools Sports Association.
#But as they look forward to another competitive after-school sporting programme, Davis said the membership is not prepared to begin competition until all the monies owed by the Ministry of Education, Science and Technology is paid to the officials from last year's sporting events.
#During the elections on Monday, Davis was returned unopposed along with her entire slate of officers, including Kendal Campbell as first vice president, Shakira Farrington as second vice president, Fiona Tucker as secretary, Keisha Pratt as assistant secretary, Tia Rolle as treasurer and Nikita Knowles as assistant treasurer. "I was shocked that nobody opposed our administrative team," Davis said. "I guess they felt that we did a great job. We are really appreciative of the support we received from the membership."
#Davis, a physical education teacher at CH Reeves Junior High School, said they got a mandate from the membership during their annual general meeting and elections of officers that they will not be prepared to start their new season without being paid for the past season.
#She noted that they are looking forward to starting their 2019/20 season with volleyball on October 7 and with the destruction to some of the schools in Abaco, it's already anticipated that there will be some athletes coming in to play on some of the high school teams here.
#"We know that the Ministry of Education was in the process of paying them. We are told that they have the money allocated for sports," she pointed out. "But we were told that the paysheet closed in June and they didn't make the payments on time.
#"So we have put everything on hold, even though we have a projected starting date for volleyball. If they get it before then, we will start on time. If the officials are not paid before then, we will have to put everything on hold."
#Once they get started, Davis said they are anticipating another exciting season with at least one new member coming on board to join the coaching staff at CR Walker Secondary High.
#Justin Munroe, the former starting centre for the University of the Bahamas Mingoes men's basketball team, is now a member of CR Walker's staff and will be helping to continue the dynasty after they lost Ednol Rolle to UB as their full-time track and field coach.
#"Every year you want to improve and get better," Davis said. "I know the coaches are preparing their teams for the upcoming season. Once the officials get paid, we will be ready to go. We wanted to introduce rings to the winners of our various competitions instead of the trophies. So that is something that we will continue to work towards. We are looking forward to an exciting year."
#Following volleyball, the GSSSA will play basketball, track and field, soccer and softball for girls and baseball for boys through their calendar year that will conclude in June.