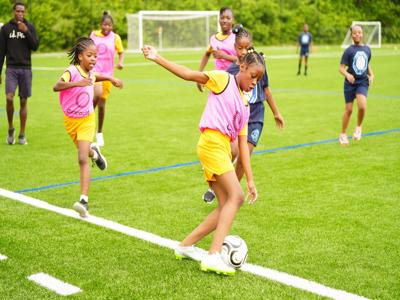 The Dawn N. Knowles Primary Schools Soccer Tournament got underway yesterday with the North Division experiencing action at Roscow A.L. Davies Soccer Field.
Taking the field first yesterday were T.G. Glover, Eva Hilton, Woodcock Primary School, Yellow Elder and Sadie Curtis Primary School. They played in four categories: under-12 (U12) boys and girls and under-10 (U10) boys and girls.
"The competition is stiff," Sturrup said. "The children are well-prepared. They have been training and are excited. They are having fun and happy to compete with and against one another."
Eva Hilton and Yellow Elder won both of their games in the under-12 boys division. Eva Hilton won 5-0 over T.G. Glover with Noah Forbes netting a hat-trick, and Tenario Strachan and Zhavargo McKenzie chipping in with a goal each, and 5-2 over Woodcock Primary with McKenzie and Taro Miller scoring two goals each. Forbes scored one goal in the win over Woodcock Primary.
Yellow Elder won 2-1 in their opening match against Woodcock. Scoring for them were Samuel Sanon and Willy Charles. Yellow Elder came back in their second game and won 5-1 over T.G. Glover. They got a hat-trick from Sanon in that win. Sangel Jules scored the other two goals.
Eva Hilton and Yellow Elder were the two strongest teams in the under-12 girls division with both teams getting a win and a draw. Yellow Elder got two goals from Serenity Stubbs and one goal from Azariah Roker to take down Woodcock Primary 3-1. Eva Hilton shut out T.G. Glover 4-0 with Ranique Tinker scoring a hat-trick. Bernyce Hart scored the other goal for Eva Hilton.
Yellow Elder and Eva Hilton faced each other, and it ended in a 0-0 stalemate.
In the under-10 boys category, Eva Hilton won both of their matches, beating Sadie Curtis and Woodcock. They won 2-0 over Sadie Curtis as Antonio Hernandez scored both goals. Hernandez scored one goal in a 2-1 victory over Woodcock. Terrel Donaldson scored the other goal for Eva Hilton.https://e54c033a4446a82663c51e6f8857c7bc.safeframe.googlesyndication.com/safeframe/1-0-40/html/container.html
Eva Hilton and Sadie Curtis were winners in the under-10 girls division. Eva Hilton won both of its games while Sadie Curtis won just one of its two games on the day. Azariah Duncombe scored both goals for Eva Hilton to lead them to a 2-0 win over Sadie Curtis. In the second game, Eva Hilton won 1-0 over T.G. Glover on a Giorgia Delancy goal. Sadie Curtis got a 2-0 win over Yellow Elders. Lazaria Rolle scored both goals.
Sturrup thanked the Bahamas Football Association (BFA) for playing a huge role in ensuring the tournament takes place.
The South Division takes to the field today. The schools in that division include Carlton Francis, Garvin Tynes, Gerald Cash, Thelma Gibson and Ridgeland Primary School. Sturrup expect schools to bring their 'A' games the rest of the week.
Action gets underway at 10 a.m. today.