As of Thursday, September 29, 2022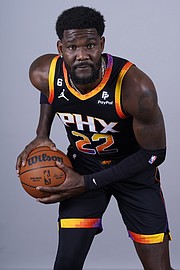 PHOENIX Suns' Deandre Ayton, of The Bahamas, poses for a photo during an NBA basketball media day in Phoenix. (AP Photo/Matt York)
#By RENALDO DORSETT
#Tribune Sports Reporter
#rdorsett@tribunemedia.net
#THE relationship between Phoenix Suns centre Deandre Ayton and head coach Monty Williams continues to be a point of contention for the franchise.
#Following a bitter end to the 2021-22 season and a lengthy contract negotiation in the offseason, Ayton addressed the relationship between the two on the first day of training camp.
#Ayton appeared in only 17 minutes of the Suns' 123-90 elimination loss to the Dallas Mavericks in game seven of the Western Conference semifinals last season.
#He finished with just five points, four rebounds and Williams told reporters postgame that Ayton's limited playing time was the result of an "internal" decision. "I haven't spoken to him at all, ever since the game," Ayton said when asked about the relationship between the two. "I can show him better than I can tell him. It's life. Nobody cares about the uncomfortable nature of it, it's how you perform and what you bring to the table. What's said is already said."
#Following a lengthy restricted free agency process, Ayton officially inked a four-year, $133 million contract in July to return to the Suns.
#A highly coveted restricted free agent target, Ayton signed a maximum offer sheet on July 14 with the Indiana Pacers and within moments, the Suns matched the offer to retain the no.1 overall pick of the 2018 NBA Draft.
#"Yea I'm alright," Ayton responded when asked if he's happy to be back with the Suns. "When I'm in between those lines, man, I just work. I know I'm not playing for myself. I have an organisation across my chest and a name on my back I have to represent, I'm just here to work."
#Williams downplayed any perceived tension between the two and indicated it was a standard practice this offseason to give his players "space" during the offseason. "I think one on ones are always needed between guys I've been around for awhile. "Some guys need it and some guys don't. I'll identify that as the season progresses," Williams said.
#"I'll talk to everybody as I always do during camp and it won't be an issue at all."
#In his fourth season, Ayton averaged 17.2 points on a career high 63 percent from the field and 10.2 rebounds per game in 58 appearances.
#Both sides reiterated that the improvement on the court will be the most important thing for the upcoming season.
#"I think the thing that people don't see is how much he's been in the gym and how much better he's gotten this summer. I think having all that stuff behind him has given him a sense of relief. I think when players know you want them around and value them, it gives them confidence. That doesn't mean you don't have situations that come up — that's part of coaching and part of being on a really good team with competitive players," Williams said.
#"There wasn't a scenario where we felt like he wasn't going to be around. He's too good of a player and he's a good dude. There's times where you bump heads on certain issues, but that doesn't define a person in totality. I think sometimes that stuff just gets blown out of proportion and rightfully so when you don't know all the facts."
http://www.tribune242.com/news/2022/sep/29/deandre-ayton-whats-said-already-said/?news