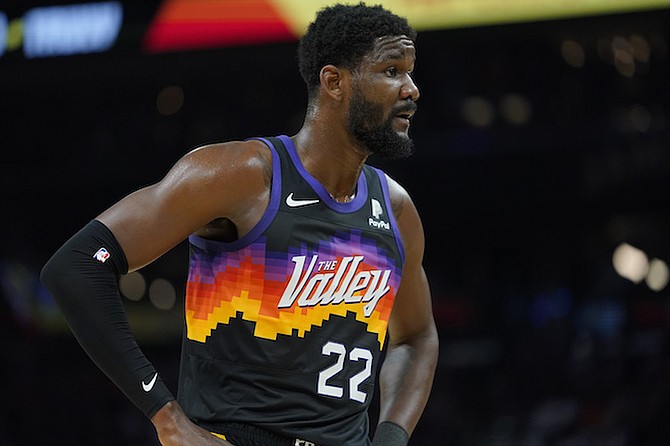 PHOENIX Suns centre Deandre Ayton (22) looks away after being fouled during the first half of Game 7 of an NBA basketball Western Conference playoff semifinal against the Dallas Mavericks. The Suns were eliminated. (AP Photo/Matt York)
#By RENALDO DORSETT
#Tribune Sports Reporter
#rdorsett@tribunemedia.net
#Deandre Ayton's contract situation and status with the Phoenix Suns next season was one of the main talking points as the franchise's staff conducted exit interviews for the 2021-22 season.
#Suns general manager James Jones and head coach Monty Williams both addressed the upcoming offseason for the franchise, highlighted by Ayton's impending restricted free agency.
#"Deandre had an amazing season and he's progressed every year and improved every year. He's been here and so he's a big part of what we do. His future with us is something we will address at the proper time which is in the future," Jones said in appearance on Arizona Sports 98.7 show "Burns and Gambo" on Wednesday, "He's a free agent and I've said all along, he's about the same things we're about which is winning. We'll address it at the proper time."
#In his fourth season, the 23-year-old centre averaged 17.2 points on a career high 63 percent from the field and 10.2 rebounds per game in 58 appearances.
#As an restricted free agent, Ayton is free to sign an offer sheet with another franchise but the Suns would still have the ability to match the deal and retain his rights if they choose to do so.
#"Deandre had a great season, a really productive season. I think across the board, when you look at what he did, he improved. That's a testament to him and the hard work. That's what you expect from a player of his caliber," Jones said in his exit interview. "As far as free agency and those things, we'll address them at the proper time. That happens in July, end of June, but we want to continue to keep our consistency and continuity and keep the guys that we have and continue to help those guys improve upon the things that we did this year."
#Contract negotiations between Ayton and the Suns reached an impasse last April after both sides failed to reach an agreement on a rookie contract extension.
#He was eligible for a five-year, $172.5 million extension that could have reached as much as $207 million if he reached benchmarks and incentives.
#"The Deandre situation is something that we'll deal with this summer," Williams said, "I don't want to say anything in regards to that. [General manager] James [Jones] and I are going to have conversations about the team in general."
#Ayton appeared in only 17 minutes of the Suns' 123-90 elimination loss to the Dallas Mavericks in game seven of the Western Conference semifinals last Sunday night at the Footprint Center in Phoenix, Arizona.
#He finished with just five points, four rebounds and two assists. Williams told reporters postgame that Ayton's limited playing time was the result of an "internal" decision and did not expand on the matter.
#Days later at his exit interview, Williams said the two have yet to speak about the incident.
#"I'll keep the internal stuff internal but it was just a decision that I made," he said, "No, we haven't talked. I've talked to the team [today] but I have not talked to DA personally."
#Several players in Ayton's 2018 NBA draft class have received max contract extensions including Trae Young of the Atlanta Hawks, Luka Doncic of the Dallas Mavericks, Shai Gilgeous-Alexander of the Oklahoma City Thunder, Jaren Jackson Jr of the Memphis Grizzlies, Kevin Huerter of the Atlanta Hawks, Michael Porter Jr of the Denver Nuggets.