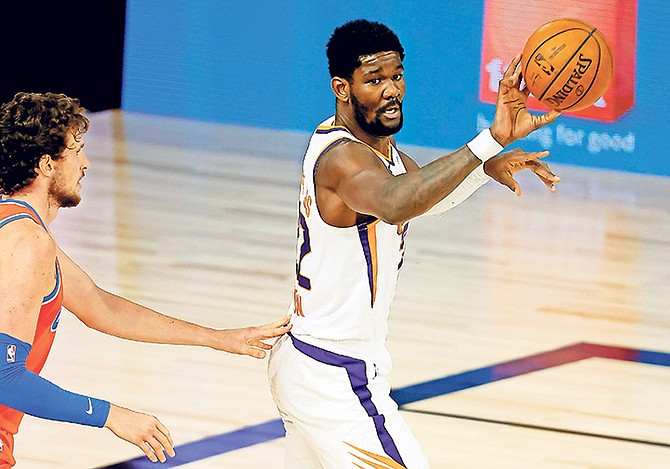 Phoenix Suns' Deandre Ayton looks to pass against the Oklahoma City Thunder during the second quarter on Monday, August 10, 2020, in Lake Buena Vista, Florida. Today, four teams – Portland, Memphis, Phoenix and San Antonio – will finally decide which two clubs get spots in the play-in series to determine the No. 8 seed in the West playoffs. (Mike Ehrmann/Pool Photo via AP)
#By RENALDO DORSETT
#Tribune Sports Reporter
#rdorsett@tribunemedia.net
#THE outcome of Deandre Ayton and the Phoenix Suns' potentially historic run at the NBA playoffs will be decided tonight on the penultimate day of the NBA's seeding games.
#A seven-game win streak thus far has brought the Suns' record to 33-39 (No.10), tied with the No.9 Memphis Grizzlies (33-39) and 0.5 games behind the No.8 Portland Trail Blazers (34-39).
#Ayton is averaging 15.6 points and 9.6 rebounds per game in the NBA restart.
#All three teams will be in action today in their final of the eight seeding games. The Suns will face the Dallas Mavericks while the Grizzlies will face the Milwaukee Bucks. Both games tip off at 4pm. The Trail Blazers will close out their schedule against the Brooklyn Nets at 9pm.
#Phoenix will need to win, but will also need some help with losses from other teams to reach the play-in game.
#A Suns loss or a Grizzlies win would eliminate Phoenix from playoff contention, because Memphis holds the tiebreaker.
#If the Suns and Grizzlies both win, it would require a Portland loss for Phoenix to get in.
#The No.8 vs No.9 play-in game is scheduled for August 15.
#If the No.8 seed wins they will advance to the playoffs and if No.9 wins, the teams will play a second game on August 16 to decide who advances to the playoffs.
#"We can finally look at it. It's our next step. We know that we're not totally in control of our fate but we put ourselves in a good position. Nobody would have guessed the Phoenix Suns would be in this position," said Suns head coach Monty Williams.
#"We're not going to change our approach. I think that would be a mistake on our part. I think our guys need to have the same focus. We've always tried to implement championship practices and film sessions and have a high level of focus so that we don't have to change."