As of Tuesday, October 31, 2023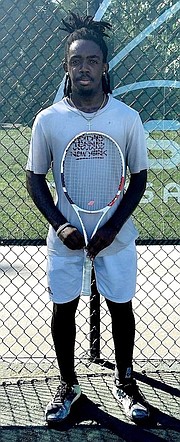 DENALI NOTTAGE
#THE Bahamas Lawn Tennis Association congratulates Bahamian Denali Nottage on winning the Casely $10k Men's Open in Hollywood, Florida, on October 23.
#On his path to victory, Nottage faced four Americans. The first in the round of 32, he was victorious over Greyson Williams 6-1, 6-3.
#In the quarterfinals, Nottage won in straight sets again against Zachary Prince of Sacramento, California, 6-1, 6-1.
#In the semifinals, Nottage won over Adler Germinal 6-2, 6-4.
#In the final, Nottage won over Jaycer Lyeons 6-1, 6-4.
#In the previous week, Nottage played in the semifinals, winning over Mwenda Mbithi 6-4, 7-5.
#At the end of September, Nottage was in another 10K finals after winning over Argentian Federico Boscarino of 6-4, 7-5. He went on to fight in a thriller of a three-set, losing 5-10 in the tiebreak.
#Denali is also The BLTA's 2022/23 national champion and represented the Bahamas at the highest level of team competition at the 2023 Davis Cup in Paraguay, earning his debut singles win.
#The BLTA wishes Denali all the best as he continues to set his mark on the tennis landscape!