As of Thursday, December 29, 2022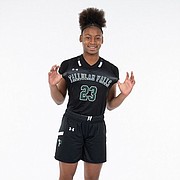 DENIKA LIGHTBOURNE
#By BRENT STUBBS
#Senior Sports Reporter
#bstubbs@tribunemedia.net
#POINT guard Denika Lightbourne has had a promising career since she left the Queen's College Comets in grade nine to continue playing for the Lady Indians at Tallulah Falls School in Tallulah Falls, Georgia.
#Now in her senior year where she's teaming up with two other Bahamians, Tanisha Seymour, another senior from Nassau and Tahj Charlton, a junior from Grand Bahama, the 18-year-old Lightbourne has secured a scholarship to compete for the University of Dayton Ohio where she will pursue a degree in computer science.
#Home for the holidays, Lightbourne spent some time working out in the Kendal Isaacs Gymnasium with veteran women's coach Anthony Swaby.
#He took the time out to make sure that she stays fit and ready to compete when she returns to school in January.
#"My dream is to play professional basketball," said Lightbourne, who has already projected herself as one of the top female players to watch from the time she started playing under coach Kino Demeritte at Temple Christian Primary School.
#In making the transition from the Bahamas to the United States, Lightbourne said she's been able to improve her game and she's now content with her ability to play at the next level when she heads to university in August.
#"At first it was pretty hard, but because of the players around me, I was able to make the adjustments," Lightbourne said.
#"I think the team we have this year will be able to do some good things, but it's still a learning process for us."
#The Lady Indians, coached by Lowell Hamilton, emerged as the region champions last year when they finished in the elite eight.
#This year, they are currently 4-8 so far, but Lightbourne said they have the potential to be a whole lot better.
#"We started off with a rough start, but we are starting to come together," said Lightbourne, as she looks ahead to their return to competition against Lake Oconee Academy on January 7.
#"The most important games are the region games, so we just want to prepare ourselves for those games next year."
#The 5-foot, 8 1.2-inch Lightbourne said the goal is to finish better than they did last year.
#She said as she looks to solidifying her position in the backcourt, she hopes that she can play at a higher level when it counts the most.
#Lightbourne, the daughter of La-Shanda and Deniko Lighbourne and siblings to La-Shae and Deniko Jr, said she got an opportunity to play with the women's national team, which has helped her game tremendously.
#She said she's even more excited abut being home and getting in the workout sessions with Swaby. "Mr Swaby has always been there for me and I appreciate the fact that he got me to come in the gym and get in this workout," Lightbourne said. "I think it's so important for me to be able to get in some workouts while I am at home."
#Swaby, who continues to assist the women playing in college or the pro ranks, said he has been pleased with the progress that Lightbourne has made and he insists that she will definitely be a force to reckon with in the future.
#"Anytime I get the opportunity to help any of the players, I make myself available for them," Swaby said.
#"I believe that if you show them some interest whenever they are invited to try out for the national team, they will be willing to come out because they see that there are some people who are interested in them."
#In Lightbourne, Swaby said he and current women's national team coach Donilo 'Donnie' Culmer are convinced that Lightbourne could end up being one of the best point guards to ever come out of the Bahamas.
#He said he believes that a number of the division one colleges that passed up on the opportunity to recruit Lightbourne will regret their decision when they see how well she will soar when she settles in at Daytona, Ohio.
http://www.tribune242.com/news/2022/dec/29/denika-lightbourne-looking-ahead-daytona/?news