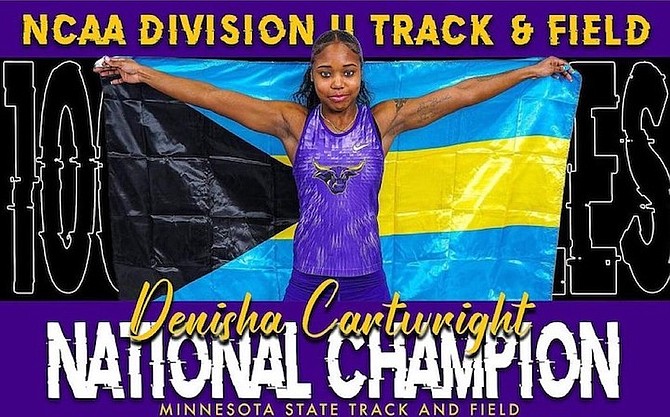 #By BRENT STUBBS
#Senior Sports Reporter
#bstubbs@tribunemedia.net
#VERSATILE Denisha Cartwright capped off another fantastic year at Minnesota State by adding another NCAA Division II Track and Field Championships title and a pair of five finishes to her résumé over the weekend.
#"I felt pretty great going into each event. I felt that all my hard work this season paid off and just trusting the programme and my coach," said Cartwright after her performances.
#"It was what I expected. I just wanted to come into this championship and do my best and put it all on the line."
#Cartwrigjt won the women's 100 metre hurdles in 12.94, well ahead of her nearest rival Kiara Smith, a junior at Missouri Southern, who did 13.13.
#Cartwright, however, had to settle for second in the 200m in 23.10 as Duvonne Franklin, a senior at California, was the winner in 22.77. And in the 100m, Cartwright placed fourth in 11.13. The race was won by Franklin in 11.09.
#"They were all personal best performances.
#"I enjoyed them all honestly but my favourite is hurdles, what's next is to rest up and get ready for this summer," Cartwright said.
#Cartwright, who represented the Bahamas at the C0mmonwealth Games last year, is expected to come home to compete in the Bahamas Association of Athletics Associations' Nationals in a bid to qualify for the World Championships in Budapest, Hungary, August 19-27.
#The 23-year-old former volleyball player is also eager to compete in the Bahamas Games, scheduled for July 6-14.