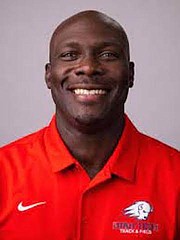 DERRICK ATKINS
#By BRENT STUBBS
#Senior Sports Reporter
#bstubbs@tribunemedia.net
#FOR the past three years, Bahamian men's co-national 100 metre record holder Derrick Atkins has been grooming the Utah Tech University women's athletic programme from scratch. He's been pleased with the progress just as he was about watching the improvements made by Grand Bahamian Terrence Jones.
#Atkins got an opportunity over the weekend to watch as Jones tied his national record of 9.91 seconds in winning the men's 100 metres at the Tom Jones Memorial on Saturday. It's a record that Atkins broke 17 years ago when he won the silver medal at the World Championships in Osaka, Japan, in 2007.
#"It's funny because before I first broke it in 2006, it was there for 18 years and now he tied it at 17 years," Atkins said. "I had the same type of progression as Terrence because it was tied at 10.18, then at NACAC in 2006, I dropped it to 10.15 and CAC I moved it to 10.08 before I dropped the 9.91.
#"So looking at Terrence, I saw his progression, especially after he won indoors in the 60m in 6.47. That equals to 9.9 in date with how the splits go. So when he ran 20.80 in the 200m, I knew he could do 9.9. I think he can get both men's national 100 and 200m records before the end of the season."
#With Jones coming down from the 400m, Atkins said he has a lot of strength to work with, so it will be interesting to watch him as he prepares during the remaining two months of the NCAA collegiate season before he goes to the World Championships in Budapest, Hungary, in August.
#"Congratulations to him. Just stay hungry. That's all I can tell him. Stay hungry," said Atkins, in offering his own words of advice. "Don't ever believe you have made or you are full. Just stay hungry because if you don't have that hunger, it will go away in a blink of an eye."
#Just like he did when he first achieved the national record feat, Atkins said Jones is probably in "disbelief" right now.
#"When I first ran it, I didn't believe it until I followed up and ran even faster,"' Atkins pointed out. "After 2006, I was on a mission that year. I wasn't chasing the national record. I was chasing getting on the podium in 2007. So that was my mindset.
#"That was my only mindset, being on the podium. I knew if I was on the podium, it was going to be fast. I had to run fast to get on the podium."
#In that race in Osaka, Atkins had to trail American Tyson Gay through the line. While Gay took the gold in 9.85, Atkins followed in 9.91 to hold off Jamaica's Asafa Powell, who came through in 9.96 for the bronze before he then went on to compete in two Olympic Games in 2008 in Beijing, China and 2012 in London, England.
#With this being the prelude to the World Championships when Jones is on course for the World Championships, Atkins said track and field is a sport where athletes have to continue to build and stay locked in.
#"It's too easy to get distracted when you read all the articles about you and how great you are and what you can and can't do," Atkins pointed out. "All I can tell that young man is to quiet the noise and stay hungry."
#Now that he's done with competing, Atkins is concentrating on his career as a coach. He started at Utah in 2020 to start the women's programme at Utah Tech from scratch after he spent the previous two seasons as an assistant coach at Western Carolina University.
#Prior to that, he did three years as an assistant coach at Kennesaw State.
#"There wasn't anybody before me. This is my third year going into it and we're a lot better than we were when we got started," he stated. "Every year, we're breaking school records, kids are getting better and I have a really good freshman class coming in, so the goal is to be ready before the 2025 NCAA Championships, which is our goal."
#Looking back at his transition from competing to coaching, Atkins admitted that he's not what he envisioned.
#"It's a lot different. As a coach, I'm learning different things to do and not to do every day and every year about coaching and developing these young ladies," he stated. "As a coach, this is definitely fulfilling. This is my journey, regardless of whether I went on to compete at the Olympics or not.
#"I want to thank Floyd Armbrister. He made me want to coach. He was so impactful in my development as a young athlete when I was at CR Walker. I bring up a story about him all the time when I talk to my athletes. He had a passion for coaching, so for me it's a learning process."
#Atkins, however, said his journey could not go without the support and assistance he received from his communication with Bahamian coaches like Rolando 'Lonnie' Greene at the University of Kentucky and Norbert Elliott at Purdue University.
#"They guide me through this process. If I have any questions, I could call them up and they give me some advice on it," Atkins pointed out. "It's been a journey and I'm just super excited to see what the future holds."
#Despite the fact that more universities and colleges in the United States are leaning more towards their football programme for men, Atkins said if Utah Tech can produce a men's track and field programme, he's eager to take it on.
#But for now, his focus is on the ladies' programme.
#And in the future, Atkins said he hopes to follow in the footsteps of Greene and Elliott and even quarter-miler Chris 'Fireman' Brown, he hopes to one day have some Bahamian athletes at Utah Tech. He said he's been trying and based on what he saw at the CARIFTA Games over the Easter holiday weekend, he's confident that it will happen soon with all of the talent he saw.
#"We definitely made a huge change in the future of the development of our young athletes," said Atkins, who competed at the games in 2001. "It's been day and night, considering when I competed, which was a long time ago.
#"Compared now, we're getting better. Jamaica obviously is ahead of us and that is expected. They have a bigger pool of athletes to develop from, especially dominating at the world stage. But we're doing some great things and I hope that I can get a Bahamian to develop in the future."
#If it doesn't happen, Atkins said his wife assured him that he has a young son and daughter that he can eventually groom to follow in his footsteps.
#"For any Bahamian student-athlete to make it at college, they have to have good grades because there is more money available for academics than athletics," he noted. "The better your grades, the more options you will have when it comes to getting to a division one or two or NAIA college for track and field.
#"If you have good grades, there are more options for you if you are talented on top of that. Coaches can put together so many packages that can allow you to get a full scholarship. Gone are the days when you can get a full athletic scholarship. The rules have changed. It's a year to year contract. It's a business because coaches' jobs are also on the line as they invest in you."
#The 39-year-old Atkins is a graduate of CR Walker who went on to compete at Dickinson State where he excelled for all four years, establishing several indoor and outdoor conference sprint records and he also helped lead the Blue Hawks to four Dakota Athletic Conference championships.
#For his stellar effort, Atkins was inducted into DSU's Athletic Hall of Fame in 2016 as a seven-time NAIA national champion, winning titles in the 55m, 100m and 200m in 2003, 2004 and 2005 as well as being named All-American 15 times in the sprints and relays. He also led Dickinson State to consecutive NAIA outdoor national championships in 2004 and 2005, and to a runner-up finish in 2003.
#In addition to his national record in the century, 37-year-old Atkins has produced a wind-aided 9.83 and has a lifetime best of 20.35 in the 200 metres.
#Atkins has captured the Bahamas Association of Athletic Associations' 100m title at the National Championships seven times from 2005-2009 and again in 2012-2013.
http://www.tribune242.com/news/2023/apr/18/derrick-atkins-making-most-his-opportunity/?news