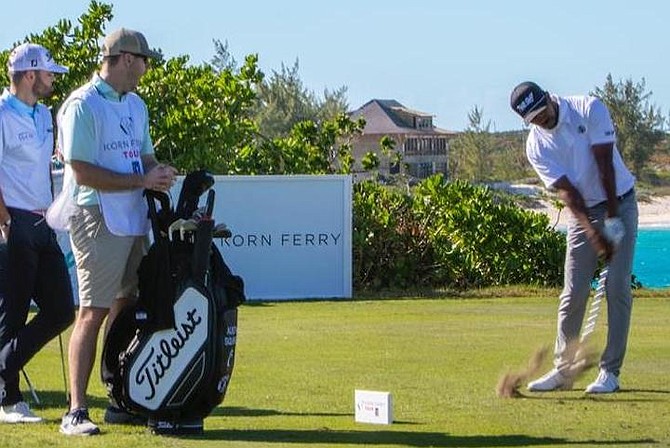 DEVAUGHN ROBINSON, far right, hits off the tee at the Great Exuma Classic golf tourney.
As of Friday, January 20, 2023
#By BRENT STUBBS
#Senior Sports Reporter
#bstubbs@tribunemedia.net
#Devaughn Robinson fell short in his bid to make the cut for the first leg of the Korn Ferry Tour that got started this week at the Sandals Emerald Bay in Exuma.
#Robinson, an architect by profession now residing in Grand Bahama, finished with rounds of 77-77 for a 10-over-par 154 as he missed the cut after the first two days of competition this week at the Bahamas Great Exuma Classic Tournament.
#"The tournament was great," he said. "It's always fun having the opportunity to compete against the world's best."
#Robinson, who earned the rights to compete in the tournament after winning the qualifier at the Ocean Club Golf Course on Paradise Island in November, said he expected to play better.
#"I was very disappointed not making the cut, but I understand that you have just as many lows as you do highs with this fickle game," said Robinson, who was caddied by Jimmy Delancey.
#Looking back at his performance, Robinson admitted that he knew exactly what went wrong.
#"I didn't drive the ball up to standard," he admitted.
#"That's usually my strength. This was a golf course that demands good driving."
#It's now back to the drawing board to prepare for his next tournament.
#"Not much to work on beyond the things that I've been doing the last few months," he pointed out. "I like how my game is progressing."
#Robinson said he will just put the experience behind him and concentrate on what's ahead of him in the Advocates Pro Golf Association Tour (APGA) and the Professional Golf Association (PGA). "I have a full season on the APGA, starting in mid- February, mixed with some PGA qualifiers," he stated.
#Hopefully he will get his breakthrough and advance to the main draw play.
#Meanwhile, the second leg of the tournament will be played in Abaco next week where Cameron Riley will represent the Bahamas at the Great Abaco Classic at the Abaco Club from January 22-25.
#Both Robinson and Riley earned the rights to represent the Bahamas after winning the respective Korn Kerry Tour qualifiers, hosted by the Bahamas Professional Golf Association, headed by Raquel Riley. The 2023 Korn Ferry Tour schedule begins in January and features 26 tournaments across five countries and 18 states.
#The 2023 Korn Ferry Tour season will culminate at the Korn Ferry Tour Championship presented by United Leasing & Finance on Sunday, October 8 with 30 PGA TOUR cards being awarded to the top 30 finishers on the Korn Ferry Tour Points List.
#The Korn Ferry Tour members are competing for $28 million in total prize money, marking the highest purse in Tour history and a 37.6 percent increase from the previous season ($20.35 million in 2022).
http://www.tribune242.com/news/2023/jan/20/devaughn-robinson-doesnt-make-cut/?news