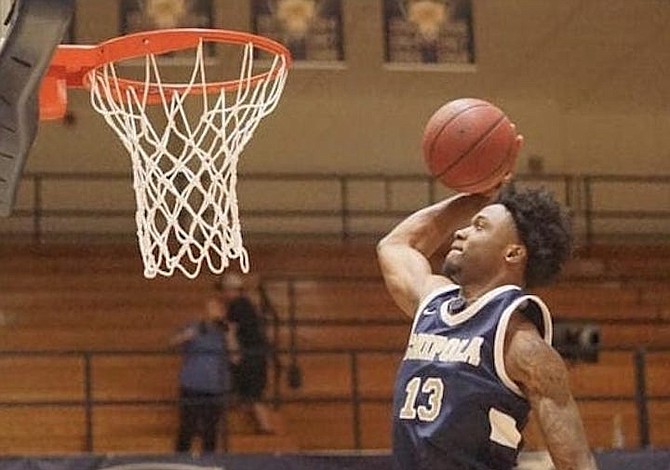 ABOVE THE RIM: Deyton Albury in action for the Chipola College Indians, who are riding a perfect 18-0 record that has them sitting on top of the National Junior College Athletic Association (NJCAA) division one men's basketball rankings.
As of Thursday, January 5, 2023
#By BRENT STUBBS
#Senior Sports Reporter
#bstubbs@tribunemedia.net
#DEYTON Albury and the Chipola College Indians are off to a great start, riding a perfect 18-0 record that has them sitting on top of the National Junior College Athletic Association (NJCAA) division one men's basketball rankings.
#The Indians had to wait until the new year for NJCAA to publish its weekly rankings. This marked the first time that Chipola has been ranked atop the poll since the 2006-2007 season, holding that feat for 10 straight weeks. Their 18-0 record is also the best since the 2012-13 team that started the season with the same record.
#In their last game on Saturday, December 31, Albury saw limited action as they blew out North Florida Prep 117-39 as he scored on a field goal, pulled down three rebounds with as many assists and a pair of steals.
#The Indias are gearing up for a big match-up on Saturday when they take on Northwest Florida State College, one of their top rivals in their conference.
#"A lot of people were underestimating us in our conference, saying we were probably the fourth best team, and we weren't as talented as last year," Albury said.
#"But we have a very good coach (Donnie Tyndall) and a talented team, and we believe we can become what he believes we can become. Every day we were grinding it out from June to now. It started with us being locked in at practice and we just have a very unselfish team, which is the reason for our success."
#Albury, a 20-year-old 6-foot, 3-inch guard, is making his contribution to the success of the team. He is averaging 11.9 points, 5.6 rebounds and 3.2 assists per game. Those numbers have allowed him to be pegged at number 56 for the first time in the NJCAA rankings.
#"It means a lot to me because I've never been ranked a day in my life in the Bahamas in a solid ranking," said the former Temple Christian Academy Suns player, who left in grade 10 to attend Sunrise Christian Academy.
#"Being in America where there are so much JUCO players and to be ranked as the 56th player in the country means a lot to me because coming from the Bahamas where you really didn't have this kind of recognition. So, this is really special for me."
#As for the numbers he's posted so far, Albury said they dropped a bit because of the system coach Tyndall is using.
#"We have a lot of guards who came back, and we rotate fast because we press a lot and what he likes to do is wear down our opponents so we have the starting five in for about five minutes and then he would put in another five, which is just as good as the starting five," Albury said.
#"We just keep wearing down our opponents and because we substitute our players a lot, my numbers have dropped this year, but I'm not worried about it once we are winning."
#After they play on Saturday, Chipola will have 11 more games to complete their regular season and hopefully an unprecedented perfect season.
#Can they do it?
#"It's just a matter of us to stay locked in and be together as a team," Albury stated.
#"I know I'm going to put in my extra work, and I will encourage my team-mates to do the same.
#"Hopefully we all can stay healthy God's willing, and we come out and win the conference, win the state and win the national tournament. Winning the national title would afford a lot of our guys an opportunity to get a scholarship to go on to a division one college."
#Although he hasn't received any offers as yet, Albury said since the rankings came out, a lot of schools have expressed an interest in signing him for the next two years, including FYU, Indiana State, Buffalo, North Texas, Florida Gulf Coast University, Austin PA, SMU, Liberty State, UTA, Stoneybrook and West Seattle.
#The son of Genice and Michael Albury Sr, has a younger brother, Michael Albury Jr, 17, who is now starring for Florida Coastal Prep Sports Academy after he left Teloes Baptist Academy in Nassau.
#"I would just like to stay healthy God's willing, win the conference, win the state championships and win the national title and have a lot of opportunities where I can choose which school I want to go to," Albury summed up.
#"I don't want to be forced into a programme where it's a last-minute thing. I want to be able to explore my opportunities and to embrace the moment."
#Hopefully it will be a good one.
http://www.tribune242.com/news/2023/jan/05/deyton-albury-and-chipola-undefeated/?news