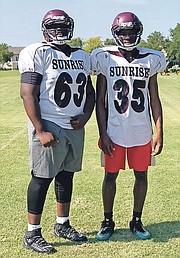 Deyton Albury (No.35) with one of his Sunrise Christian Academy teammates.
#By BRENT STUBBS
#Senior Sports Reporter
#bstubbs@tribunemedia.net
#ALTHOUGH he already made a name for himself here with the Temple Christian Suns, Deyton Albury's father Michael Albury felt his son could achieve a lot more so he sent him off to Sunrise Christian Academy in Bel-Aire, Kansas to complete his senior year of high school.
#While he left on August 15 after completing grade 11 to improve on his skills as a basketball player, Albury knew that he would also have to make an impact for the school's football team and today, he will be leading them into their Heartland Christian Athletic Association's State Championship game after they completed a relatively good regular season.
#"I sent him off to get more exposure on the court internationally to improve his basketball skills and to receive more intense training to better prepare him for the next level in his basketball career," said Michael, who along with his wife, Denise, felt they certainly made the right choice.
#At 6-feet, 2-inches, 17-year-old Albury, known as the high flying guard when he played for the Suns, coached by Nigel Smith, admitted that making the adjustment was quite easy because he knew a lot of people, who made him feel just as comfortable as if he was still at home. "The biggest change I had to make was adjusting to the way they teach and handle business at school," said Albury, when compared to what transpired at Temple Christian, which he noted was quite different in comparison to the two schools, without going into any details.
#As for football, Albury said he's looking forward to today's game as he hopes to continue his trend of averaging at least two touchdowns a game in order to help Sunrise Christian Academy secure another win when they take on Destiny Christian Academy at 8pm.
#Sunrise Christian Academy advanced to the final after pulling off a 44-22 rout over the Claremore Christian out of Claremore, Oklahoma in their playoff game last week.
#"It's been a great season so far," stated Albury, who surprisingly posted 18 touchdowns and rushed for over 1,000 yards with four punt returns for touchdowns in his rookie season.
#"Hopefully we can go all the way and win the title."
#Win, lose or draw, Albury is looking forward more to the basketball season that will start after football is completed. He hopes that he can put up the numbers and produce the kind of season that would impress the scouts to offer him a division one scholarship to attend one of the major universities next year.
#"They're looking for me to be a good team player and allow me to play my game," said Albury, of the expectations of the coaching staff at Sunrise Christian Academy.
#"The adjustment is hard, but I just have to manage my time well to be able to get time in both sports. But obviously, I want to pursue basketball more."
#Albury has a younger brother, Michael Jr, who is following in his footsteps, but who desires to become a pilot, as opposed to Deyton, who wants to pursue a career as a professional basketball player in the National Basketball Association (NBA), or at least on the European circuit.
#Michael Jr is a 14-year-old 10th grader at Teleos Academy and a prime candidate to play on the Bahamas junior national team as a point guard and defensive specialist next year.
#Last June, Deyton Albury, along with Romad Dean, received the opportunity of a lifetime when they were selected to represent the Bahamas at the 10th Basketball Without Borders camp, hosted by the National Basketball Association (NBA), the International Basketball Federation (FIBA) and the Colombian Basketball Federation (FCB) in Medellin, Colombia.
#In July, Albury and Dean also represented the Bahamas on the national team that participated in the FIBA Centrobasket Under-17 Boys Championships at the Roberto Clemente Coliseum in San Juan, Puerto Rico.
#The team, coached by Quentin 'Three Ounce' Hall out of Grand Bahama, secured the bronze medal with an 85-83 victory over the Dominican Republic to qualify for the 2020 FIBA Under-18 Championships.
#Albury was the leading scorer for Team Bahamas with 28 points on 12-for-24 shooting from the field.