As of Wednesday, March 22, 2023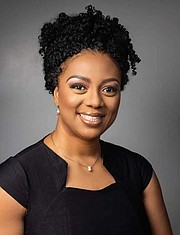 Dr Wentia Ford-Diagne
THE late baseball legend Wenty Ford.
#By BRENT STUBBS
#Senior Sports Reporter
#bstubbs@tribunemedia.net
#In an effort to help keep the legacy of her late father alive, former versatile athlete Dr Wentia Ford-Diagne has established the Wenty Ford Sports Foundation with a "50-50 Dream Big" initiative.
#The public charity, non-profit organisation that is dedicated to the support and development of the youth though the fundamental skills of sporting disciplines, leadership and community development, was formed last September, but is expected to commence with its first set of participants this September to June 2024 with the inner-city kids in Centreville.
#"We know that there are many inner-city kids, whose parents can't afford to pay for them to go to the private camps," she said. "The goal is to launch the programme to commemorate 50 years since my family first started playing Major League baseball.
#"So I've created an after-school programme where the kids can come at least two times a week to learn the fundamentals of the sport of baseball and two days where they can get the tutoring from some of the teachers in the programme."
#Ford-Diagne said they are opening the programme up to the first 50 youngsters, but one of the criteria for enrolment in the programme is a minimum of a 2.5 overall grade point average and a minimum of 2.0 GPA in a subject. It's geared towards youngsters between the ages of five and 12.
#Ford, who also played cricket, signed with the Braves in 1966 as an undrafted free agent and was promoted to the Major Leagues in September 1973 after his eighth season in Atlanta's farm system, having won 17 of 24 decisions with an earned run average of 2.46 with the Braves' two top minor league affiliates.
#In his Major League debut on September 10, 1973, Ford started against the San Francisco Giants at Atlanta-Fulton County against future baseball Hall of Fame pitcher Juan Manchal. Ford pitched a complete game in a 10-4 triumph, surrendering five hits (four of them singles) and six bases on balls (walks), with three strikeouts.
#Ford, the only Bahamian to pitch in Major League Baseball for the Atlanta Braves, was killed in a car accident on July 8, 1980.
#His daughter, Ford-Diagne – a former multiple sporting star for the Kingsway Academy Saints – left the Bahamas in 1995 to pursue her studies at Norfolk State University before she went on to Old Dominion University and Eastern Virginia Medical School.
#She is now residing in Edinburg, Texas where she is a physician assistant partnering with her husband Dr Thiendella Diagne at Dr Diagne Premier Ob Gyn Practice with emphasis on women's health and infertility and is the mother of one daughter, Mareme Evangeline.
#Ford-Diagne was too young to remember the exploits of her father. But while in town in 2022 to participate, her uncle Mario Ford's annual baseball camp on Windsor Park opposite their homestead, she said the genesis of her starting the Sports Foundation in honour of her father.
#"I feel like I am doing exactly what he would have been doing if he was still alive," she said. "He always had a keen interest in helping the youth in the inner-city and so I think I am only carrying out his mandate to help as many young people as I could.
#"He wanted to make sure that they had everything they need so that they could get the opportunity to compete just like the other kids whose parents have the funding to ensure that they can get the private tutoring."
#The following are the objectives
#of the camp:
#While she has the foundation up and running, Ford-Diagne revealed that there are 10 positions available for a board of directors to assist her. But she noted that she has an advisory board that includes veteran journalist Fred Sturrup and former track star Addis Huyler, who has been assisting with the branding of the foundation. For more details, persons can email info@wentyfordsportsfoundation. com or contact Ford-Diagne at WhatsApp 956-780-6100.
http://www.tribune242.com/news/2023/mar/22/dr-wentia-ford-diagne-remembers-her-late-father/?news