As of Tuesday, September 26, 2023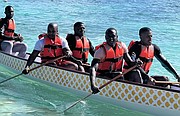 #By BRENT STUBBS
#Senior Sports Reporter
#bstubbs@tribunemedia.net
#AFTER hosting a successful inaugural event last year, the Bahamas Chinese Dragon Boat Association is looking forward to making the second annual Bahamas Dragon Boat Festival bigger and better.
#Association vice president Susie Chan said the two-day festival on Saturday and Sunday in Goodman's Bay will be one for the crowd to attend as they watch the dragon boat races in the water as well as participate in the food, drinks and music on shore.
#"We expect a good turnout. We have close to 30 teams participating, four coming from the US and the rest of them are local teams," Chan said.
#"We have some youth teams, we have the Immigration, Police and the Defence Force all coming on board."
#Competition will begin on Saturday at 9am with the preliminary rounds in all divisions with the finals taking place on Sunday at the same time. The festival on Sunday will start at noon and will conclude with the awards presentation.
#Performances of lion dancing, kung fu masters in action, the breast cancer society presentation and special music by Stalette before a junkanoo rush out takes place with a kids corner filled with activities.
#The Dragon Boat Festival is known worldwide and now it's fast becoming a popular event in the Bahamas.
#"There's usually 14 people on the boat, including ten paddlers, a drummer and a steers person," Chan said. "They go out and race and it's all about unity and being in sync. You might be strong, but then you might be together. So it takes a lot of practice together and cooperation. Everybody is in one unison.
#"It's been for breast cancer survivors, who use the sport as a way to bond with each other and to get some exercise. It's a therapeutic sport in that aspect."
#In an effort to foster a good relationship and encourage as many people to get involved, Chan noted that the Chinese Embassay provided all of the boats for the inaugural competition last year.
#"That turned out quite well, considering that it was the first time we sponsored that event," Chan said. "Our executive committee is all made up of volunteers, who dedicate their time and even sometimes their monies to brace the gap between the Chinese and the Bahamian people."
#Spectators from North America, Canada and other parts of the world have been here last year and Chan said they anticipate that the numbers will increase because of the tremendous success from last year.
#Last year, Chan said there were 23 teams entered and there's expected to be at least 33 teams participating, including the juniors, armed forces and the corporate citizens.
#For more information, persons interested in participating in the event can WhatsApp 242-426-1001 or log onto www.bcoragonboat.com.