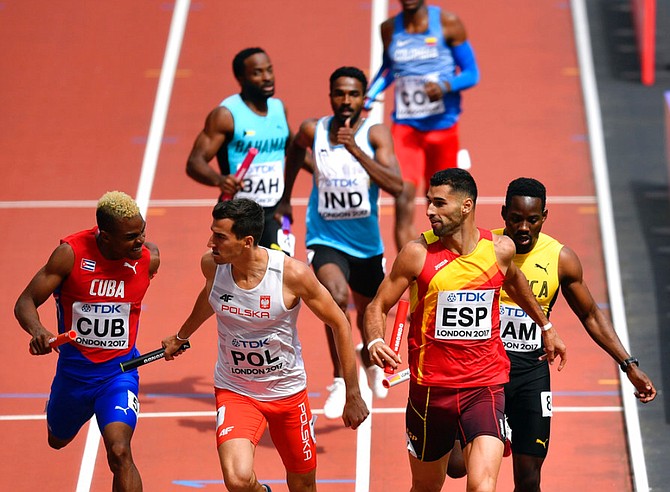 The Bahamas in action in the men's 4×400 relay heats. None of the relays teams managed to qualify. (AP)
#By BRENT STUBBS
#Senior Sports Reporter
#bstubbs@tribunemedia.net
#LONDON, England: One by one the Bahamas teams were eliminated in the preliminaries of the women and men's 4 x 100 and 4 x 400 metre relays on Saturday, abruptly ending the country's appearance at the 16th IAAF World Championships.
#There was one drama after the other for Team Bahamas just before the final day of competition on Sunday in what can be classified as a very strange championships.
#Traditionally, the Bahamas would have a lane in the grand finale in the men's 4 x 4m relay. But that was not the case this year as the team of Alonzo Russell, Michael Mathieu, Ojay Ferguson and ran a season's best of three minutes and 03.04 seconds for sixth place in heat two – putting them in 11th place overall and out of contention for the showdown on Sunday.
#Spain, surprisingly, took the top spot in a season's best of 3:01.72 in the heat, but the Bahamian athletes felt that they didn't go to "war" with their best team as 400m national record holder Steven Gardiner didn't run with them.
#Just before that, the quartet of Lanece Clarke, Christine Amertil, Anthonique Strachan and Shaquania Dorsett didn't get to complete the last of the two women's 4 x 4m heats after Amertil tripped legs with another runner and fell.
#She laid on her back until the race was done before she could get some medical attention. Eventually, she was treated and, although she said she had a terrible headache and was going back to the games village to get further assessment from team doctor Keir Miller and physiotherapist Eugenia Patton, she was okay, but disappointed that she let the team down, especially Dorsett, who didn't get to make her debut at a major global event.
#If that's wasn't enough, the women's 4 x 100m team of Devynne Charlton, Carmiesha Cox, Janae Ambrose and TyNia Gaither never completed their heats of the women's 4 x 100m after Cox and Ambrose couldn't connect the baton on the second exchange.
#Gaither, fresh off sharing a piece of history with Shaunae Miller-Uibo as the first two Bahamians to run in a final of the women's 200m at these championships, was peeved because the team didn't spend sufficient time preparing for the competition.
#And although the men's 4 x 100m team of Warren Fraser, Shavez Hart, Sean Stuart and Teray Smith finished their heat in seventh place in 39.35, they were disqualified. The team wasn't informed until after they had already gone to warm down.
#So as it turned out, the Bahamas has a disastrous showing in the relays with none of the teams moving on. As a result, the Bahamas will only end up with two medals, a silver from Gardiner in the men's 400m and a bronze from Miller-Uibo in the women's 200m.
#When asked what transpired with the teams, relay coordinator Rupert Gardiner said it was just a series of circumstances that will have to be addressed from the executive level of the Bahamas Association of Athletic Associations.
#"To tell you the truth, but I don't know how to say this. You cannot come up on the day of the meet and put relay teams together," he said. "If we practice the teams and we go over the relays, as the relay coordinator, you have to trust my judgement."
#Gardiner said there was clearly some dissension in the team camp and it showed when the final decision was made by the management on who will run as opposed to who will not run.
#"I'm not going to be the fall guy for the performances of the relay team," he insisted. "I'm disappointed how they performed. It's not their fault, it has to be put on management. That's the way I feel about it."
#The team was co-managed by Maybeline Miller and Carl Oliver, who were not available for comments. But head coach Dianne Woodside-Johnson said there was no doubt that Team Bahamas had a rough day
#"We had some really good exchange practices, but of course when they go out there, we really don't know what's going to happen," she stressed. "We had some major instances out there today and I'm disappointed, but the athletes went out there and did their best and things just happened this morning and we didn't fare as well."
#Read a full account of how things transpired in The Tribune on Monday.