As of Wednesday, March 22, 2023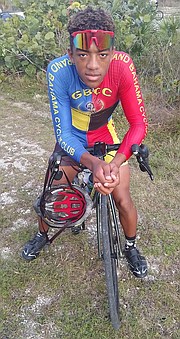 VERSATILE Grand Bahamian Launy Duncombe is coming to town this weekend to compete in the CARIFTA Trials.
#By BRENT STUBBS
#Senior Sports Reporter
#bstubbs@tribunemedia.net
#GRAND Bahama – After falling short of making the Bahamas Aquatics' national team for the CARIFTA Swimming Championships in Curacao, versatile Grand Bahamian Launy Duncombe is coming to town this weekend to give it a shot at the Bahamas Association of Athletic Associations' track team for CARIFTA here at home.
#Duncombe, the overall male winner of the BAARK's 10th annual Powerade Potcakeman Triathlon that was held on Jaws Beach on March 5, came through as the junior boys' winner of the Grand Bahama Cycling Association's Time Trials over the weekend.
#He said he used the event to get him geared up for the competition in the under-17 boys' division of the BAAA National High School and final CARIFTA Trials at the Thomas A. Robinson National Stadium.
#"When I went to the swim CARIFTA trials, I didn't qualify, so when my coach told me I had a chance to qualify for the track team for CARIFTA, I decided to prepare myself for it, along with the CARIFTA triathlon," he said.
#"I love competing in cycling and then swimming and track. But I enjoy competing in all three because they help me to become a better triathlete. I just hope that I can make the CARIFTA team this weekend in track."
#Look for 15-year-old Duncombe to make his presence felt in the 1,500m.
#Duncombe, a ninth grader at St Paul's Methodist College, started swimming from the age of two, but just recently got involved in cycling and running long distances to help him gear up for the triathlon.
#"It was a good experience for me," said Duncombe of winning the Potcakeman Triathlon. "I didn't have any high expectations. I just wanted to put myself in a position to be one of the competitors they picked for CARIFTA later this year.
#"So I just went there to make sure that I solidified by spot. But I didn't expect to come out with the position that I got. When I saw I had the opportunity to win it, I took it and pushed myself across the finish line."
#Although he had the fourth fastest time in the Time Trials on Saturday, Duncombe said he just wanted to compete with the older competitors, who are all training for the Bahamas Games in Juily.
#"It was fun competing against them," Duncombe said.
#"I hope that I can make the team to represent Grand Bahama at the Bahamas Games as well."
#He certainly has a bright future ahead of him as a multiple sport standout.
http://www.tribune242.com/news/2023/mar/22/duncombe-coming-town-carifta-team-trials/?news