Dynamic Duo Continue To Shine For Defenders Elite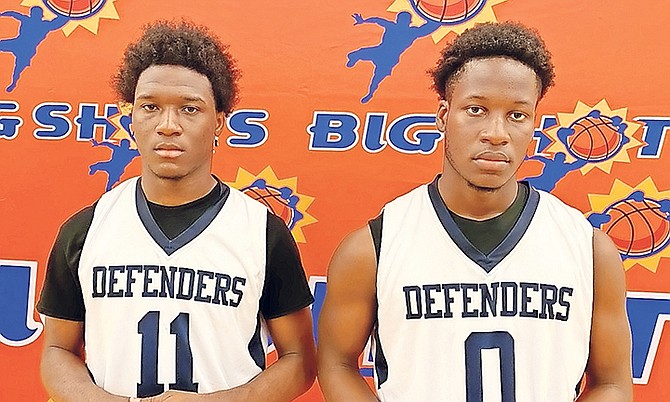 Deyton Albury and Garreth Edgecombe.
#By BRENT STUBBS
#Senior Sports Reporter
#bstubbs@tribunemedia.net
#The Bahamian talented young duo of Deyton Albury and Garreth Edgecombe continue to shine for the Defenders Elite basketball team at the Amateur Athletic Union (AAU) Tournament in South Carolina.
#Over the weekend, the pair of 18-year-old players wrapped up their third tournament by winning their pool play of the Queen City Showcase at the Rock Hill Convention Centre with a 3-1 win-loss record to advance to the Phenom Challenge this weekend.
#After losing their opening game 78-69 to the Anthony Morrow Elite, the Defenders Elite went on a roll, winning 82-71 over the Capital City Pacers, 83-55 over the Charlotte News 2021 – Gainey and in the finale on Sunday, they defeated the Cobras 2021 78-76.
#The games, according to Bahamian assistant coach Jamal Smith, was played in front of hundreds of college coaches who were able to watch the tournament live streamed as they scouted the talent on the floor.
#"We started off the tournament, losing our first game by 10 points to one of the top-15 ranked teams in the United States," said Smith, who is reuniting with Albury and Edgecombe, whom he both coached at Temple Christian before he left for the USA about two years ago.
#"After that, we were able to win our last three games. I think the guys are adjusting to the style of play and are performing very well."
#Albury, fresh off completing his high school tenure at Sunrise Christian Academy in Bel-Aire, Kansas, where he emerged as two-sport star in football and basketball, averaged 16.5 points per game, 8.2 rebounds and 7.3 assists.
#In putting his stamp of approval on their last game of the tournament, the 6-foot, 2-inch combo guard produced a triple double with 11 points, 12 rebounds and 11 assists.
#He was named the most valuable player of the game, earning the award for the second time in the tournament. "He really established himself on the defensive end of the floor," Smith said. "He was really crisp on the offensive end as well. He didn't really turn over the ball. He really had a good performance throughout the tournament."
#As for Edgecombe, who had moved from Temple Christian to play for Galilee Academy, he ended up with 14.9 points per game with 6.5 rebounds and he shot about 40 per cent from the three-point line.
#In fact, Edgecombe, playing as a 6-3 small forward, canned about five three-pointers in their third game as he finished with 18 points.
#"Some of the coaches who were there were about to give him an assessment of his game, which was pretty good for him," Smith said.
#On the whole, Smith said the two players are really coming into their own after a week off from participating in their previous two tournaments back-to-back.
#"They showed some fresh legs and they showed that they are getting back to what they are used to doing as far as their basketball skills is concerned," he said.
#"Their basketball competitiveness that I knew they had when they played for me at Temple Christian is coming back."
#Prior to this tournament the Defenders Elite reached the semi-finals of the Big Shot Tournament in Myrtle Beach, South Carolina where they lost in double overtime 68-64 as Albury was named to the All-Tournament Team because of his performance.
#That came after the Defenders Elite finished third in their pool in the Big Shot Tournament, which was also played in Myrtle Beach, where Albury and Edgecombe were both selected as Player of the Game in two separate contests.
#While the tournaments are all a part of a showcase to display the skills of the players, Smith said in the 28 games they played since they got together at the beginning of July, they have been performing exceptionally well as they progress.
#The Phenom Challenge, which is another showcase tournament featuring the top teams from North and South Carolina, Georgia, Florida and Virginia with more than 200 coaches from division 1-3 and junior colleges all viewing, is on for this weekend in Rock Hill, South Carolina as well.
#In order to participate in the tournaments through the coronavirus pandemic, Smith said they have to be quarantined at their home location and they only come out to workout on the outdoor courts or develop their individual skills.
#"We also have to sign waiver forms, releasing the tournament organisers from any liabilities, we have to do temperature checks and wear masks before we enter the gym," Smith revealed.
#"The tournament directors are pulling out all measures to ensure that all of the players, the referees and the officials are safe. Going forth, I feel these are some of the measures that all basketball leagues could follow once they have the proper protocols in place."
#So far, Smith said they have all been COVID-19 free and they have their temperatures checked every day, even if they are not playing. He noted that they even attend a local clinic just to make sure that they are okay.
#"It's all about social distancing and quarantining," he said. "We want to be safe, considering the climate that we are living in right now, not only here in the United States, but in the Bahamas.
#"We know what's going on back home and so we want the public to know that we are taking all of the necessary safety precautions and we hope that the Bahamian people are doing the same because it's all about saving lives, even though we have to go on with our every day lives, like we are doing with basketball."