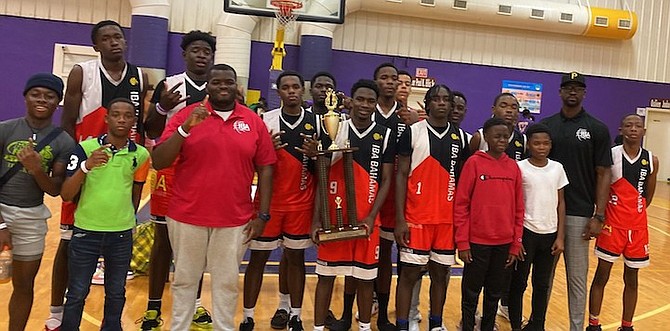 IBA Bahamas Panthers senior boys' championship team.

Championship MVP Lavardo 'Lil Soggy' Saunders.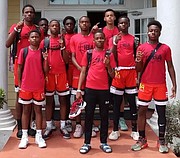 IBA Bahamas Panthers junior boys team.
#By BRENT STUBBS
#Senior Sports Reporter
#bstubbs@tribunemedia.net
#IT was payback time for the IBA Bahamas team as they avenged their first loss to beat the CC Sweeting Cobras to clinch the Eagles Basketball Classic's senior boys' championship title.
#At the tournament played from April 13-15 at the Gateway Christian Academy Gymnasium, IBA junior boys, however, went undefeated up to the semifinals game where they suffered their first loss of the tournament to the St John's Giants.
#Coach Denycko Bowles said he was still pleased with the way his teams performed.
#"I think the performances were good from both of my teams, " Bowles said.
#"I was really pleased with the way they played."
#In their senior boys game, Bowles said after losing to the Cobras in their opening game, they were determined not to allow a repeat feat in the championship, pulling off a 64-41 victory over CC Sweeting behind the most valuable performance from Lavardo 'Lil Soggy' Saunders.
#"The guys played hard. They executed for the full length of the game for four quarters," he said. "We were really locked in and focused. I think it was because of what happened in the first game.
#"Our guys came back with a vengeance. It wasn't really our style of play. They dug down deep and came back with vengeance. They executed very well on both sides of the court."
#In the junior boys' division, the DW Davis Royals emerged as the champions with a 40-32 decision over St John's.
#Over the Labour Day weekend, IBA will have their Jam Fest at the Anatol Rodgers Gymnasium where they will have competition in the 18-and-under, 16-and-unser, 14-and and 12-and-under divisions.
#"We have to tighten up on a few things and we will be ready to go from there straight into the summer," said Bowles.
#He is asking any teams interested in participating to contact him.
#Additionally, the IBA will resume its second annual Grassroots Youth Basketball League this weekend with games scheduled for the Anatol Rodgers Gymnasium today, starting at 5pm and will continue on Sunday from 3pm.