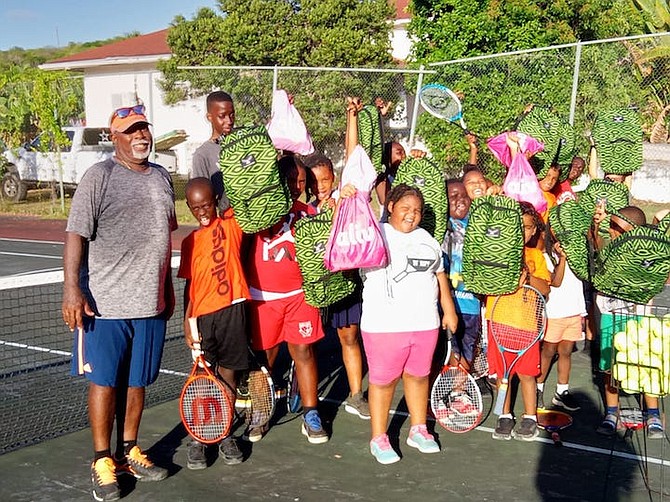 Island Luck and Aliv donated backpacks filled with school supplies for the children.
As of Thursday, September 8, 2022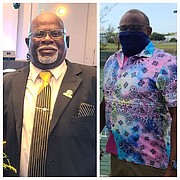 HARTIE JOHNSON, left, new president of the Eleuthera Tennis Association, and the former president Jerome Hill.
#THE Eleuthera Tennis Association (ETA) held its annual general meeting and the new executive board consists of the following persons who ran unopposed:
#President – Hartie Johnson; Vice President -Juanita Percentie; Treasurer – Barbara Johnson; Assistant Treasurer – Laura Culmer; Secretary -Parry Culmer; Assistant Secretary – Rose Johnson- Kirby; Chaplin – Jackie Percentie; and Assistant Chaplin- Charles Rolle.
#On hand was the Bahamas Lawn Tennis Association (BLTA) treasurer, Timothy Dames.
#Mr Dames brought remarks on behalf of the BLTA, noting that the BLTA will continue to support the ETA as they seek to develop and grow the sport in Eleuthera.
#The BLTA congratulated incoming president Johnson and his team and wished them well as they lead the ETA.
#The BLTA also extended warm regards to outgoing president Jerome Hill for his service to tennis on the island of Eleuthera over the past years,
#President Johnson and his administration have hosted a Back2School Tennis Fun Day.
#He thanked Island Luck and Aliv for provided backpacks filled with school supplies.
http://www.tribune242.com/news/2022/sep/08/eleuthera-tennis-association-elects-new-president/?news