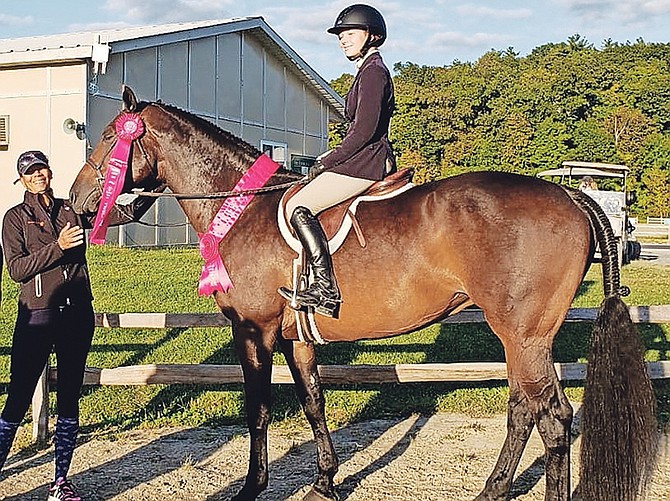 Trainer Erika Adderley-Coello enjoys a smile with Elle O'Brien, who placed 12th out of 76 riders in the Marshall and Sterling 2' 6" Children's Medal Final in Saugerties, New York. O'Brien is shown riding My Way, owned by Stacey Vertullo.
As of Tuesday, September 17, 2019
#RISING equestrian star Elle O'Brien shone brightly at the Marshall & Sterling League 2019 National Finals, held this week in Saugerties, New York.
#O'Brien finished as one of 12 finalists in the competition, placing 12th out of 76 riders in the 2'6" Children's Medal class.
#O'Brien was invited to compete as a league finalist by virtue of having accumulated qualifying points in competitions throughout the year. She was accompanied to the competition by her trainer, Mrs Erika Adderley-Coello of Mariposa Stables.
#Riding Stacey Vertullo's bay mare "My Way", O'Brien was the 28th rider to enter the ring, facing a jump course designed by Rian Beals. Under the watchful eye of the judges Mrs Paddy Downing-Nyegard and Mrs Amy Nunnally, O'Brien and My Way jumped a crisp and stylish clear round to earn a place in the final testing phase. In the end, the pair rode proudly into the ring to claim 12th place.
#Equestrian Bahamas President, Cathy Ramsingh-Pierre praised O'Brien's accomplishment in placing so highly at such a prestigious competition, and noted the important role played by her trainer.
#"The Marshall & Sterling Insurance League is one of several international organisations with which Equestrian Bahamas currently partners to provide competitive opportunities for our riders," said Ramsingh-Pierre. "Elle's success at the League Finals is a testament to the abilities of our Bahamian riders, and to the competency of our training programmes here at home in the Bahamas."
#Trainer Erika Adderley-Coello also praised O'Brien's performance, noting that although there is always room for improvement, to gain a ribbon in such a large, competitive field was a notable accomplishment. "12th out of 76?" she said with a broad smile on her face – "I'll take that!"