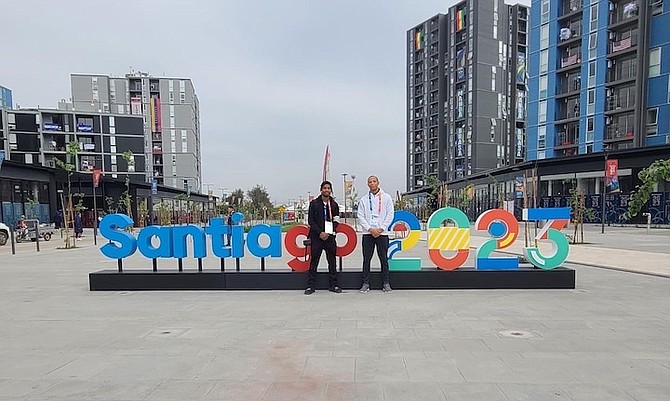 Eric Bain is expected to represent The Bahamas today at the inaugural Pan American Esports Championships.
As of Thursday, November 2, 2023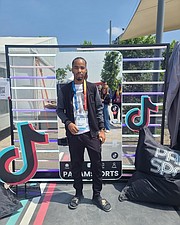 MAKING A DEBUT: Eric Bain at the first ever Pan Am Esports Championships in Santiago, Chile.
#By TENAJH SWEETING
#Tribune Sports Reporter
#tsweeting@tribunemedia.net
#BAHAMIAN Eric Bain will represent The Bahamas today at the inaugural Pan American Esports Championships in Santiago, Chile.
#Bain is set to compete this morning in eFootball as the group stages of the tournament's debut begins.
#The collaboration between the Global Esports Federation and Pan Am Sports is historic as nontraditional sports continue to garner more popularity and support globally.
#The competition begins today for contestants vying for the eFootball 2024 and Dota 2 Esports titles and is slated to continue until November 4 at the National Stadium Sports Park.
#Bain, who will be the first Bahamian to compete at this event, is ready for the experience at this level.
#"It is an exciting experience to be able to be the first Bahamian to compete at this specific level of Esports, it is very exciting to know that all the years of playing games has paid off and Esports is becoming dominant due to more technology so it is great to see how it has grown in the last five years," he said.
#Although he was unaware of his opponent up to press time last night, the 26-year-old will compete in the group with top ranked teams from Argentina, Brazil and Bolivia.
#The gamer started his journey playing FIFA and then made the transition to eFootball a few months ago. Most recently, he competed alongside Derdrick Ferguson, who played Street Fighter 6, at the Global Esports Games Online Regionals earlier in October. The eFootball gamer had a rough showing at the competition and was unable to collect a win in Group A, Americas in four matches played.
#Despite his previous shortcomings, Bain is focused on a bigger goal at the Pan Am Esports Championships.
#"Although I started with the mindset of winning, I want to continue to bring awareness about Esports to Bahamians, showing them the opportunities that exist, and to open doors for other Bahamians to experience these opportunities," he said.
#The eFootball experience involves a football simulation which aims for realistic and authentic gameplay. The game is available to be played on mobile, PC and console devices.
#The 2023 Pan American Esports Championships is set to host more than 120 esports athletes from 25 plus countries competing in the open and women's categories.
#The gaming extravaganza began with a GEFestival on October 21 which celebrated the entire culture and community of Esports.
#The championships will run along with the 19th Pan American Games which wrap up on November 5.