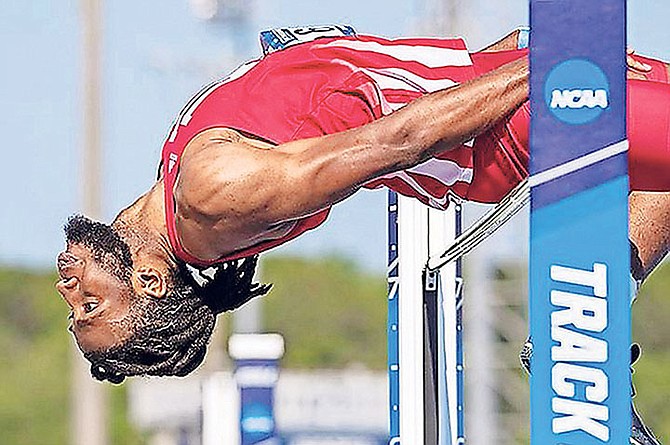 Jyles Etienne
#By BRENT STUBBS
#Senior Sports Reporter
#bstubbs@tribunemedia.net
#Bahamian Jyles Etienne, who decided to give up a promising career as a basketball player to compete in track and field, is fast becoming one of the premier high jumpers to watch at the collegiate level.
#Etienne, now attending Indiana University where he was competing in his junior year, was named by the US Track & Field and Cross-Country Coaches Association (USTFCCCA) on an All-American list for the indoor track and field season after he finished at the ninth spot in the event when sports was halted just before the NCAA National Indoor Championships was to take place in March.
#Etienne, the son of Vonchelle and Raphael Etienne, soared a lifetime best of 2.23 metres or 7-feet, 3 3/4-inches to earn his first Big Ten individual title.
#He opened the season at the Hoosier Open with the same height to post the fourth-best mark in the programme's history.
#"It feels good. It's just all of the hard work paying off," said Etienne after he earned his first All-American honour at the collegiate level after twice receiving the nod while at the Brook in 2016 and 2017. "It really feels good."
#The COVID-19 pandemic put a lid on his indoor and outdoor season at Indiana, but Etienne is now preparing for his return to Bloomington for his final season and ultimately a trip to Tokyo, Japan, in July 2021 for the 2020 Olympics, which was postponed this July due to the spread of the coronavirus. "The timing of the coronavirus wasn't that bad. I just came off winning a conference meet, so I was glad that I was able to do it," he said. "It cut right between conference and nationals, so basically it gave me time to prepare for next year.
#"I haven't missed anything. Everything just got prolonged to next year. So I am hopeful that I will be able to get back to where I was before everything stopped because of the coronavirus."
#The 21-year-old Etienne has been in town since March 20 where he's been training under the guidance of local coach James Rolle at the Thomas A Robinson Stadium after Prime Minister Hubert Minnis gave the go-ahead for professional athletes to resume training at the beginning of May.
#"It was a little different at first because they didn't open the stadium, but now it's opened and you're able to get into the weight room too, so it's going good right now," said Etienne of the training sessions here.
#But Etienne said he doesn't expect everything to be as normal as before, considering the "Back Lives Matter' and "I Can't Breath' campaign as a result of the resurgence of protests and riots after the death of African American George Floyd by a white policeman on May 25.
#"I think because of the pandemic, there will be a lot of changes," Etienne said. "I'm just trying to take everything day by day and not let it get to me. "When that time comes, I will deal with it."
#In the meantime, Etienne said he's holding out to see whether or not the Bahamas Association of Athletic Associations will host their National Championships over the weekend of July 31 to August 1, or he just goes into his preparation phase for the 2021 season and the Olympics. "I heard that they are having the Nationals at the end of July, so that is the main thing on my calendar right now," Etienne said. "But I want to qualify for the Olympic Games, so jumping 2.30m (7-6 1/2) is my main goal and then once I do that, everything else like college nationals will fall into place."
#The 2017 under-20 CARIFTA bronze medallist in the high jump was a New York State champion in 2016 and was second at the New Balance Outdoor Nationals in 2016 and fourth place finisher in 2017 while attending The Stony Brook High School after he left Queen's College at grade 10.
#It was during his sting at Stony Brook High School that the 6-foot, 5-inch Etienne made a name for himself as a two-sport star. He was excelling in basketball, but was encouraged to venture into the high jump.
#"One of my coaches saw that I was jumping high and blocking a lot of shots," Etienne said. "So he said I should try the high jump. I was doing both sports for about three years and then I saw I was way better in the high jump, so I made the switch."
#After spending the past two seasons soaring in high jump, Etienne said he has no regrets making the transition from basketball. He said he's grateful because track and field has provided him with more opportunities to travel and compete.
#As he began his freshman indoor season at Indiana, Etienne posted a third place finish at the Indiana Relays with a leap of 2.04m (6-8 1/4) on his first attempt. He also took the title at the Gladstein Invite with a clearance of 2.07m (6-9 1/2) and he won the Hoosier Open with 2.21m (7-3).
#During the outdoors, Etienne made an unsuccessful debut at the Big Ten Championships after he placed eighth at the Tennessee Relays with 2.07m (6-9 1/2) and he was in the top 10 at the Florida Relays with 2.06m (6-9).
#In 2018-19, Etienne continued to flourish in his sophomore year by climbing up the ladder to a third place finish at the Big Ten Indoor Championships with 2.16m (7-1) after he earned the titles at the Hoosier Open, Gladstein Invite, Indiana Relays and the Tyson Invitational. He also has second place finishes at the IU vs Tennessee Duals, Jim Green Track and Field Invitational and the Power Five Invite.
#Those performances carried over to the outdoor season where Etienne won the ASU Invitational and the Billy Hayes Invite, placed third at the Big Ten Championships with 2.20m (7-2 1/2) and culminated with 17th at his initial NCAA Championships with 2.15m (7-0 1/2).
#After getting off to another impressive start to his junior season this year, Etienne had to watch as everything came to a halt at the end of the Big Ten Championships.