As of Thursday, April 27, 2023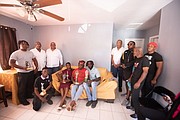 MEMBERS of the Bahamas Boxing Federation (BBF) delivered their heartfelt sympathy and condolences in person to the Oliver family following the untimely death of boxer Tyrone Oliver Jr. Photo: Moises Amisial/Tribune Staff
#By TENAJH SWEETING
#tsweeting@tribunemedia.net
#MEMBERS of the Bahamas Boxing Federation (BBF) delivered their heartfelt sympathy and condolences in person to the Oliver family following the untimely death of boxer Tyrone Oliver Jr.
#The 28-year-old father of one was murdered alongside his younger brother, Shakuar Oliver, last week Saturday in the parking lot of Solomon's Super Centre.
#The professional boxer was not only set to celebrate his birthday in two weeks on May 11, but the same day was supposed to be the wedding day of his younger brother where he would stand in as his best man.
#In the boxing arena, Oliver had big aspirations as he was preparing and had high hopes of competing in the 2024 Summer Olympics Games to be held in Paris. Oliver's next scheduled boxing event prior to his death would have been the International Boxing Association's (IBA) World Boxing Championships in Tashkent, Uzbekistan.
#The promising young boxer's life is gone but his legacy remains as BBF members and his family had nothing but kind words and heartfelt memories to share as they spoke of the late Oliver.
#Romell Knowles, president of the Bahamas Olympic Committee (BOC), shared his fondest memories of the promising boxer.
#"It is quite sad, he was a very mannerly guy, some of the things I heard, that's not the Tyrone I know, he was like a surrogate son to me and when he travelled to Africa I said, 'Tyrone don't go until you get your contract' but he was so hyped and loved boxing so much, he went halfway around the world on a promise that this promoter would take care of him," Knowles said. Knowles added that Oliver would speak with him frequently for advice. As he fought back tears, he recalled that when he received the news of the boxer's death he hugged his own son as if he was Tyrone. In heartfelt words, the BOC president noted that young men are not easy to raise but Ms. Oliver did a great job raising her late son.
#Oliver was the type of young man that offered encouraging words to his peers and those around him that he loved according to his dear friend Israel Johnson and fellow boxer of the national boxing club Matthew Damas. The young man had been enthralled by the sport of boxing since the tender age of 12 and never looked back. Oliver met one of his dearest friends through Striker's School of Boxing and they had been close ever since.
#Damas talked about what it was like training with Oliver for the World Boxing Championships.
#"Tyrone was a blessed soul, he really was, he had a big heart, a great one, during my time training with him he was always the person to pick up where I could not see my flaws he was just that wonderful person to come to you to and talk to you about getting better every single day it was always love," he said.
#The young professional boxer's last professional fight was July 31, 2021. He also had his sights set on the Central American and Caribbean Games for June in San Salvador, El Salvador.
#Despite his shortcomings with partying, mother of the late boxer Eunice Oliver said her son was the standard and the Bahamas will never see another like him. Oliver said her son had a strong passion for boxing and would eat, sleep, and wear boxing. His mother said the young man would adorn himself in boxing attire on a daily basis and for big matches would also need a new pair of shoes to put on a show. She added that the family 100% supported his passion and for matches they would wear shirts in support of the promising young boxer.
#Members of the BBF including president Vincent Strachan, former president Wellington Miller, president of the New Providence Boxing Association Valentino Knowles, and BOC president Romell Knowles offered their sympathies and will look to honor the late Tyrone Oliver Jr at boxing matches and at his funeral.
#The Tribune Sports Department extends its deepest sympathy to the Oliver family on their double loss.
http://www.tribune242.com/news/2023/apr/27/eunice-oliver-boxing-was-his-world/?news