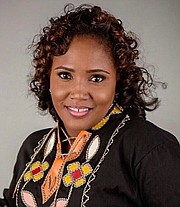 FELICITY DARVILLE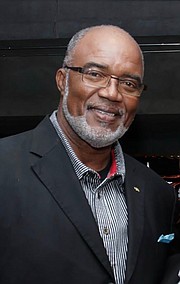 Allan Ingraham, father and stepfather to Alana, Felicity, Arian, Ara Theo, Alisa, Kye, Hughie, Allan III and Alanis.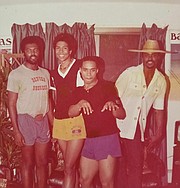 All-star Bahamian team visiting the University of Minnesota (from left) Allan Ingraham, Michael "Sweet Bells" Thompson, Osborne "Goose" Lockhart and Elijah McSweeny.
#By FELICITY INGRAHAM
#WHEN I was 14 years old, I had the opportunity to participate in the filming of a Hollywood movie right here in Nassau. Gerard Depardieu was the main actor – a French father who took his daughter, played by Katherine Heigl, on vacation to The Bahamas. Gerard was jolly and friendly. I interacted with him quite a bit because I was Katherine's stand-in. Whenever she was having hair or makeup done; or they needed someone to read her lines as they filmed him; or when they needed someone to sit or stand where she would be in the next scene to get the lighting right, I would fill in. Katherine and I were about the same size at the time. Gerard was easy to work with, and I could tell that he enjoyed his experience in beautiful Bahamas for the filming of "My Father, The Hero".
#In the movie, their relationship took the course that many can attest to – a child with a mind of her own and a doting father. As I penned this edition of Face to Face, I saw how similar my relationship with my own father is to this story line.
#Fathers play an important role in the lives of their children. Fathers are the heroes. When you are a child, your father seems larger than life. He seems invincible, and you believe that he has the answers to all the questions you have. As you grow up, you begin to realise that there are lots of things you must do on your own. You begin to focus on your own life, family and career. But what this Father's day showed me is that we must take the time out to interview our parents, without emotions attached, and have a face to face with them objectively. Learn to understand them from a different point of view. I became the journalist and not the daughter – just for a moment. In the process, I discovered a fascinating man – one of the most intriguing people I have ever interviewed.
#He is deserving of an even longer, more in-depth interview in the future. There was so much to tell that he could write a book. The interview only lightly scraped the surface of the life of a multi-talented man with a big heart for humanity. If you were to consider taking on the challenge to objectively interview your parents about their lives, their viewpoints, their passions, and their outlook on life, you may be missing a great opportunity to learn more about yourself.
#When I was a little girl, I remember that my dad, Allan Freeman Ingraham Jr, was always fixing things. If anything went wrong, he would take the mechanism apart until he understood how it worked and then put it back together again… and voilá! He worked at the Resorts International, Paradise Island and then the Lucayan Hotel in Freeport as the slot manager in the casino; so I had the chance to watch him take apart countless slot machines and somehow repair them all, while continuing his duties of managing staff. Although he did not live with my mother, sister and I, he consistently showed up on important occasions and would serve as a source of inspiration.
#His parents were no less heroes to me. His father, Allan Ingraham Sr, was a well-respected taxi-driver and was active in politics. His mother, Sylvia Ingraham (nee Thurston) worked in the hotel industry for a great part of her adult life and she would sew, tend to her garden, and perform any task around the house practically by herself. She must have had her hands full with the young Allan – a boy with heightened curiosity and boundless energy who loved to explore and go on adventures.
#Allan attended St Johns Baptist Cathedral Primary School, better known as Mother Donaldson school, where he met his first and lifelong friend, Ed Smith. Later on in life, the two of them would make Bahamian sporting history. Ed Smith (my godfather) would become the first Bahamian to be drafted to the National Football League (NFL) where we would be assigned to the Denver Broncos after attending Colorado College. My father also joined the NFL at that time and he played for the Washington Redskins, pictured. He was the first Bahamian to play in the NFL as a free agent and one of the first to join the league this way in its entire history.
#"Free agency was not heard about at the time," Allan explained, "The league would select players who were graduating from college."
#In 1972, the Super Bowl showdown was between the Miami Dolphins and the Washington Redskins, with the former becoming the victor. Because both teams made it to the Super Bowl, they were set to get last picks during drafting season. Allan explained that the teams that did not fare well in the NFL would usually have first picks, attracting the best of the collegiate to their team, which would help to create an even playing field in the league. After that 1972 game, Redskins coach George Allen brought his wife and children here to The Bahamas for vacation. He asked his taxi driver to stay with him and his family throughout the night and take them wherever they needed to go. But the driver insisted that he would return a half hour earlier than their dinner would be over if he could just catch a piece pf an all-star football game being held that night. Little did the driver know that he was catering to a Super Bowl coach. He settled his family in for dinner and actually went with the driver to watch the game.
#"In the first half of the game, he saw me play," Allan recalls.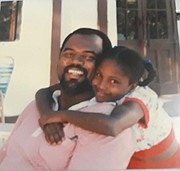 My father and I at age five.
#"He told the driver at half-time that he wanted to see me. I walked over to him he said, 'Good game, son'. I said thank you. He asked me, 'Have you ever thought of playing pro football? I said, no sir. He said, 'What would you do If you had the chance? Before I could answer, head of the Bahamas American Football Association (BAFA) Jeff Williams walked over and he was introduced to the coach for the Washington Redskins, George Allen. I was shaking then because I had no idea who I was talking to at the time."
#BAFA pointed out that their best player in the league was Godwin Blyden, and so both my father and Blyden were invited by Coach Allen to participate in a free agent camp that Allen was holding to find some gems for his team for the next season. They went to the tryout camp in Herndon, Virginia, and my father was selected as one of six to continue on – 436 men tried out for the team.
#He then went on to participate in the spring camp in Carlysle, Pennsylvania where he was one of 15 athletes selected out of 75. The first pre-season game was in Anapolis, Maryland, where he won the game ball as the best defensive player. Eventually, he was released, not for his lack of ability to play the game, but because without any high school or college training in the sport, he was unfamiliar with the technicalities and the audibles – instructions shouted to linebackers that required intense knowledge of the game and the ability to make split decisions.
#On July 9, 1973, as the country was gearing up to celebrate its most momentous occasion the following morning, The Tribune featured my father on its entire back page with the title: "Allan Ingraham Will Be Doing His Thing for The Bahamas on July 10". That article by Gladstone Thurston describes a 24-year-old six-foot six-inch, 225 pound Bahamian linebacker who was excited to represent his country in Washington, DC while those at home would witness the Bahamian flag being raised on Clifford Park for the very first time.
#Allan grew up in the Nassau Street area with many other great athletes, including Cynthia "Mother" Pratt, Ed Armbrister who would go on to play professional baseball for the country, and Randy Rodgers. He has never stopped being an athlete, even to this day. I recall that he used to play basketball with the legendary Cougars, he was an avid rugby player, and he participated in race walking marathons throughout the United States. He also keeps a close relationship with the Redskins, attending events and meeting with other NFL colleagues from back in the day and even new athletes from Olympians to NBA stars.
#But his love for electronics also never wavered. When the government of the day wanted to ban the implementation of satellites in the country, Allan took a stand. In Ed Field's former column "The Reporter's Notebook", he interviews Allan on satellite technology and the future of local television. Interviewing him in his capacity as a former ZNS and BatelCo engineer who had studied at Lenkurt Electric in Redwood, California, Fields calls him one of the first to recognize the impact and potential for satellite communications in The Bahamas. All of my father's predictions came true – predictions that today seem commonplace as communication is now at our fingertips. But that wasn't always so, and my father was the first to install a residential satellite at a home on the Eastern Road. He credits Garret "Tiger" Finlayson for contributing to his education in electronics when he served as his employee.
#"As a BatelCo employee, I was selected to build by hand a 150 watt transmitter which was gifted to BASRA," he added.
#"This was much to the delight of then (BASRA) president Ben Astarita. On firing up the device, he was able to link distances never before achieved in the country by talking to Great Harbour Cay, Andros and Eleuthera."
#He was just eight years old when he fell in love with electronics: "I was at Western Preparatory (Quarry Mission School) when I watched an older friend Oscar Munroe (elder brother of Dr Myles Munroe) assemble a radio. I was so fascinated by it that I hounded him every day until he showed me how to construct the apparatus. I went home to try to collect parts – a red head match box, a baby's safety pin, a hand wound coil, a cat's whisker, and the only thing technical used was a headphone. It wasn't long after that, I found out that a silicone diode rectifier was more robust and could do a better job than the cat's whisker. The rectifier was discovered from a cat's whisker because it was found out that you could put a voltage on one side of the whisker it would oscillate but never come back the other way – only going in one direction. That was the beginning of what all our electronics are today."
#Beyond the athletics and electronics is a man with a great love for humanity. Throughout his life, he was involved in several events where he was responsible for saving a life. He rescued several friends from drowning, including Phillip Chipman, Brian Wilson, Greg Robinson of Base Road Bar, and Herbie Edgecombe of the Falcons band. In another incident, a chef from Paradise Island crashed his Hillman Minx wagon on Kemp Road. My father stuck his thumb into this man's side to save him from losing too much blood until the ambulance arrived, with technicians thanking him for his heroics.
#It seemed 1973 is just as important a year for the country as it is for me – as my mother was crowned Miss Bahamas this year and my father also represented the country abroad. So, as the world over celebrated fathers, I did the same, but learned so much more about myself and the legacy I come from in the process.