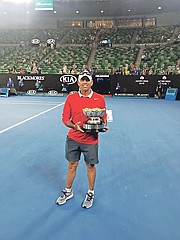 Bahamian John Farrington is now coaching the combo of Oliver Marach of Austria and Mate Pavic of Croatia.
#By BRENT STUBBS
#Senior Sports Reporter
#bstubbs@tribunemedia.net
#JOHN Farrington has succeeded as a player and captain of the Bahamas Davis Cup team. Now he's honing his skills as an international coach.
#Farrington, who served as the coach for the impressive men's doubles team of Mark Knowles and Canadian Daniel Nestor before they retired, is now coaching the combo of Oliver Marach of Austria and Mate Pavic of Croatia.
#Marach and Pavic are coming off their triumph as the men's doubles champions of the Australian Open after pulling off an identical 6-4, 6-4 decision over the Colombian combo of Juan Sebastian Cabal and Robert Farah last month in Melbourne, Australia.
#Farrington, back home for a few weeks of relaxation, started coaching Marach and Pavic at the US Open last year.
#"We had a great start, but unfortunately we lost to the Bryan brothers and we continued after that in Sweden where we won the title and then we played in Vienna," Farrington reflected.
#"Unfortunately we had to default to the semi-final due to an injury to Oliver. But we still came in and played in the year-end championships as an alternate. We got in and played the Bryan brothers and we beat them at the year-end championships."
#This year, Farrington said they started the year playing in Doha, Qatar where they won the title before going to Aukland, New Zealand and won again. That led their successful showing in Melbourne where they carted off the Australian Open crown.
#Pavic also teamed up to clinch the mixed doubles title with Canadian Gabriela Dabrowski.
#"All in all, we had a successful start of the year," Farrington pointed out. "We're looking forward to some phenomenal things to come."
#The good thing, according to Farrington, is that both Marach and Pavic understand the importance of putting their best foot forward and that has been a key to their success.
#"We work extremely hard in our practices and obviously we are getting the results from it," Farrington pointed out. "But we also get along extremely well off the court, so I think we have a very good combination and we have a happy medium to enjoy what we are doing."
#Farrington, who resides in Aspens, California with his wife, Donnae, said Marach and Pavicć will now prepare for their next series of trips that will take them to Acapulco, Mexico on February 26, Indian Wells, California on March 8 and Miami, Florida on March 21.
#Following the tournament in Miami, Farrington said Marach and Pavicć will stop over here in the Bahamas for a few days of relaxation and train as well. "We will take some time off to enjoy our success and then prepare for the European swing," Farrington said.
#Having worked with Knowles and Nestor when they were the number one team in the world and even with Nestor and Zimonjic when they secured their top ranking, Farrington said it's good to continue where he left off in the coaching world.
#"Being out there and seeing all of the guys in the world and the new faces, it's good for me to enjoy what I'm doing," Farrington said.
#Comparing now to the past, Farrington said a whole lot has changed. "The guys are so much more physical," he said of the present day players. "They hit the ball bigger and obviously their rackets and strings have a lot to do with it. But their physical fitness has improved and the training is so much different in preparation during the offseason and maintaining it so they can stay physically fit.
#"But you still have to play between the white lines and you have to hit it over the net, but the game has seen the players being much bigger and physical and they hit the ball with a lot more authority. The average height right now on the tour is 6-2 and there are some guys who are 6-5 and 6-7 and they are moving like they are 6-2."
#As a Bahamian who didn't get to play on the pro circuit like Knowles, Roger Smith and Ryan Sweeting, Farrington said he would like to one day see some of the up and coming players like Jacobi Bain emerge on the tour in the near future.
#"A lot of players need to have that desire at a younger age to understand the commitment needed to achieve their goals," Farringrton said. "We don't just want the younger players to write down their goals, but it's how do they achieve their goals. It comes from practice and playing tournaments and then they can achieve their goals.
#"I think a lot of the players around the world want to play, but when they get to a certain age and they realize what it takes to play at that level, I think some of them tend to drop out. It's a grind to get there. Once you get on the tour, it's your job. It's what it's called being a professional player."
#On a local level, having played and captained the Bahamas Davis Cup team, Farrington said although we are back in the American Zone III, he feels the Bahamas Lawn Tennis Association is on the right track in terms of getting back to the Zone One.
#"We have the Newman brothers in Spencer and Baker and Marvin (Rolle) is still playing and serving as the captain, so he brings a wealth of experience to the team that also includes Kevin (Major) and Philip (Major)," Farrinton said.
#"I think they will set us up going forward, but it will be great if we can make the leap back to Zone one. I think we are on the right track because the players are still young and hopefully they can continue to work hard. I definitely feel we have a team that is capable of being in zone two, if not zone one. The great thing about it is that at some point, they will have to add the younger players like Justin Roberts and Jacobi Bain, even if it's just for the experience."
#Having taken the Bahamas to a great period after he took over from John Antonas as the captain, Farrington said if given the call from the BLTA he would definitely come home and help out with the team again in the future.
#"It's been great when I was captain. I do miss it. It was great working with the guys and putting them through the drills and pull the team together," he pointed out. "A couple times we came close getting out of zone three. We had some difficult task in some of those South American countries.
#"But I do miss that part of it and seeing the guys compete and playing for the country and fighting for hell. So that part of it, I definitely miss it. But if the opportunity presents itself and I'm given the opportunity to work with the team again, I would be happy to take it on."
#But for now, Farrington said his concentration is on touring with Marach and Pavić and giving them his expertise in helping them to climb up the ladder where they can become number one in the world like Knowles and Nestor or Nestor and Zimijic.
#"As a coach on the tour, we all have our challenges," Farrington said. "But it also makes it a lot easier when you are working with a player or a team that puts in the work to be successful. So it does make it a lot easier, especially when you have to sacrifice the time to travel and be away from home.
#"But I have that support from my wife. Occasionally she gets to come to some of the tournaments so that makes it easier. But it's work on the tour and you do whatever it takes to make it work. Obviously, you are going to have moments where it's going to be a little more challenging, but you just have to persevere and get through it."
#So far, Farrington said he's on the right track in his 35-year career as a coach after he officially quit as a player in 1998.
#"Tennis has been great to me. I've been there as a player, team captain of Davis Cup and now as a professional teacher and a coach on the international scene," he summed up. "There's no complaint from me. It's been a hell of a ride, a journey that I will not forget. I'm going to continue to do what I am doing until I can't do it anymore."