Five Aspiring Basketball Players Are Offered Scholarships At 15th Darell Sears Showcase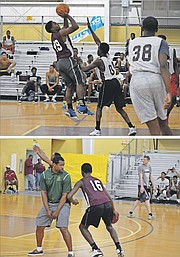 ABOUT 60 players participated in the camp, which featured scouts, coaches, and representatives from 25 high school and collegiate coaches in the United States, ranging from JuCo to Division I.
#By RENALDO DORSETT
#Sports Reporter
#rdorsett@tribunemedia.net
#THE Darell Sears Showcase continues to be a staple on the Bahamas' basketball calendar and gains recognition by showcasing the best talent the country has to offer.
#The 15th edition of the event concluded Sunday at the St George's Jaguars Gymnasium in Grand Bahama and a record five participants were offered scholarships by representatives of visiting programmes.
#Approximately 60 players participated in the camp, which featured scouts, coaches, and representatives from 25 high school and collegiate coaches in the United States, ranging from JuCo to Division I.
#The showcase hosted coaches from Southern Mississippi University, Arkansas State, Stetson university, Arkansas-Little Rock, University of Louisiana-Monroe, Stephen F. Austin, Texas A and M Corpus Christi, St Petersburg Junior College, Miami Dade Junior College, Paris Junior College and Edward Waters University. There were also four high schools out of the US and a representative from a Canadian college in attendance.
#In addition to the players to receive offers, an additional 10 drew strong interest and are on the fast track for future opportunities if they are unable to capitalise immediately.
#This year's tournament also had another new addition as a pair of former participants signed their letters of intent to attend institutions in the United States.
#Shaquillo Fritz signed on to join the Arkansas State Red Wolves while Qyemah Gibson made it official with the Miami Dade Sharks.
#Fritz said it was fitting that his basketball journey came full circle and he was able to sign at the St George's campus.
#"I'd like to thank my parents and this programme for helping me to get to this point. I'm very excited to be a Red Wolf and this is a perfect day. It's great to see the family come out and support me because my support system has helped me to be a better person," he said. "I advise the guys at the showcase to keep working, keep focused, believe in your self and chase your dreams. You just have to make the most of your opportunity when you get the chance."
#Gibson added: "It's a once in a lifetime opportunity and I don't take it for granted. I want to make the most of it and I'm very thankful for it."
#Sears, the longtime coach of the Jaguars, began the practice of travelling with his players to the United States to gain exposure for his players in the late 1990s.
#Since then, he has been able to forge a network of connections that now affords a greater number of players those same opportunities by showcasing their skills at home. Over the course of the weekend, players engaged in individual skill development, as well as scrimmages.
#Sears talked about the improvements he has seen in the event since its inception. "My eyes are a bit diff so I always look for the little things. The coaches and the kids had a wonderful time and I think our people had a great job. There are improvements we can make and I think that I am learning more and more that if one child gets the opportunity at the next level then it's a success," he said.
#"The thing that the coaches have spoken to me about is the guys' athleticism. What they are excited about, especially for the ones that have been coming the last two, three years and what they have recognised is that the skill set and IQ of the game has improved. We know we have guys that can attack but in years past one of the knocks has been guy's wouldn't know when to pull up or when they get to the rim they wouldn't know the appropriate move, now they recognise defences better and their games have improved."
#The age bracket for the showcase ranged from 9th grade to unattached. It also featured current Bahamian junior college players looking to progress into division I. "Hopefully we can reach a bigger audience and reach even more programmes in the future, particularly for those coaches who can not attend," Sears said.
#Showcase alumni includes some of the most recognised names in Bahamian basketball over the past 15 years.
#Some of the past participants in the showcase includes professional players Magnum Rolle, Kadeem Coleby, Kentwan Smith, Garvin Hunt and current division I players Buddy Hield, Lourawls Nairn Jr, Kentwan Smith, Prince Cooper Jr, Travis Munnings, Nathan Bain, Kenneth Taylor, Andre Sands and Dwight Coleby.
#Several of those players were afforded an opportunity to join the Sunrise Christian Academy Eagles programme in Wichita, Kansas.
#Sunrise head coach Luke Barnwall was on hand once again at this year's edition, scouting future talent.
#"Darell always has the best kids here. There is a lot of good young talent, I was talking to one of the Division I coaches, and I would say that the players are getting better, their skill level is getting better and I would say the talent level is better and it's good to see," he said.
#"This process, it works for them. We have had a lot of them come through our programme that have come through here and went as high as Buddy, Tum and Travis. They get a chance to play for us, then go on to Division I."
#Scores of other players have received scholarship opportunities to join high school, junior college, division II and division III programmes across the United States. "I saw a lot of talented kids, a lot of kids ready to join a programme to go and play basketball. It's my first time here so I'm really excited about being here," said Paris Junior College assistant coach Michael Scott.
#"I'm looking for some guys ready to work hard, looking to stay in the gym and get ready to play. This event is huge because I think kids here need an opportunity to understand what it takes to come over to America and play basketball. A lot of it is a basic fundamental, just understanding how to play and if you can do that you can play at our level."