As of Tuesday, August 23, 2022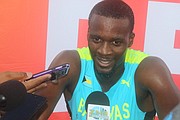 Kinard Rolle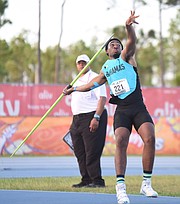 KEYSHAWN Strachan had another national record-breaking performance in the men's javelin at the North American, Central American and Caribbean Open Championships at the Grand Bahama Sports Complex. However, his heave of 248-feet, 9-inches or 75.83 metres left him shy of a spot on the podium with fourth place. Photo by Anthony Foster from Track Alert
#By BRENT STUBBS
#Senior Sports Reporter
#bstubbs@tribunemedia.net
#FREEPORT, Grand Bahama — For most of the young Bahamian athletes, whether they made it to the final of their event or not, the 2022 North American, Central American and Caribbean Open Championships turned out to be a learning experience.
#One of them was Keyshawn Strachan, the Bahamian national record holder in the men's javelin. He came into the championships having won a bronze medal at the World Under-20 Championships in Cali, Colombia.
#But he knew this was a much higher level and although he did his best, his heave of 248-feet, 9-inches or 75.83 metres left him shy of a spot on the podium with fourth place.
#However, it was another national record-breaking performance as he surpassed his previous mark of 236-7 (72.13m) that he posted in Cali last month.
#American Curtis Thompson took the gold with 276-4 (84.23m) with Trinidad & Tobago's Keshorn Walcott getting the silver with 275-4 (83.94m) and American Ethan Dabbs got the bronze with 267-2 (81.43m).
#"My performance was good in my first senior meet," said Strachan, who is coming off a bronze medal performance at the World Under-20 Championships in Cali, Colombia. "Next season, I'm expecting some big things.
#"The competition was really tough. I knew it was going to be tough because of the competitors entered."
#Looking back at his performance overall this season, Strachan said it was his best ever.
#"I'm not going to college until January," said Strachan, a graduate of St John's College who has signed to compete for Auburn University. "So I'm going to continue with work with my coach (Corrington Maycock).
#"I hope to throw around 85 metres or better."
#Shakeem Smith, competing in the final of the men's 400m hurdles, raced out of lane one to eighth place in 52.49 as he got caught and passed at the tape by Haiti's Joshua Adhemar in seventh in 52.48.
#"I kind of knew what was going to happen, but I still tried my best," said Smith, who noted that he suffered a slight right hamstring injury during the warm up and he didn't want to agitate it any further. "I still ran on my leg because I really wanted to get the experience."
#After the race, Smith said he almost came to tears when he stepped out on the track to run because he was just delighted to be able to represent the Bahamas in the event.
#Kinard Rolle, who had predicted that he would run something fast after he advanced out of the semi-final of the men's 400m, got off to a great start in the final, but didn't have anything left to contend with the rest of the field coming off the final curve, finishing the race in 48.23 seconds for sixth place.
#"I was not that pleased with the results, As you can see, I executed the first part of the race, but I let the second part get away from me," he said.
#Jamaica got a 1-2 punch as Christopher Taylor took the gold in 44.63 with Nathon Allen getting the silver in 45.04 and American Bryce Deadmon the bronze in 45.06.
#Rolle said he wanted to give the Bahamian people "something to cheer for, make it worth their while, let them see a show," but it didn't work out as he faltered down the stretch.
#There's still hope for Rolle for the future. He indicated that he will go back to the drawing board with his coach and try to devise a plan for his return next year.
#Xavier Coakley, coming off an injury that required surgery a year ago this same time, was also sixth in the men's 110m hurdles in 13.85.
#The USA got the top two spots with Freddie Crittenden getting the gold in 13.00 and Jamal Britt the silver in 13.08, while Jamaica's Orlando Bennett won the bronze in 13.18.
#"To make it back is a great feeling," said Coakley of his comeback from the injury he sustained after he completed his senior year at the University of Miami. "I think this will only motivate me to come back stronger for next year."
#Samson Colebrooke didn't advance out of the semi-finals of the men's 100m after he clocked 11.71 for seventh in his heat and 22nd overall.
#He too was coming off an injury and didn't want to reagitate it any further so as a precautionary measure, he didn't want to tighten up so he just cruised through the finish line.
#"The plan was just to come in and see where we were going," he said. "There were a lot of hiccups early in the season with a lot of transitions. So me and my coach were trying to get me prepared to come home (to compete).
#"I didn't want to leave, but I wanted to see what I could do. No regrets. I haven't ran on home soil, but I just hope to get back strong for next year, make these teams and do better."
#Anthonique Strachan got fourth in her heat of the women's 100m in 11.48, but it left her as the ninth qualifier, one spot shy of returning for the final that was won by her training partner Shericka Jackson of Jamaica in a championship record time of 10.83.
#"It wasn't a great execution because I am still a little scared of my leg after I got hurt at the World Championship," she said.
#"It was a quad injury. I got a third degree strain and I sort of rushed it to compete at NACAC because I wanted to compete at home, especially because it was in Freeport.
#"I rushed my recovery to come here. It wasn't as bad as I thought it would be, but it's a mental mindset."
#Printassia Johnson, also entered in the 100m semi-finals, was sixth in her heat in 11.66 for 11th overall.
#"I was just focusing on my phases. That is all," she pointed out. "The race was okay."
#After taking a six-year hiatus, Johnson returned to competition last year under coach Ednal Rolle.
#She said they still have a lot more work to do, but it was good for them to see exactly where she is against the top-notch competition.
#Sprinter Denisha Cartwright got to compete in her specialty in the women's 100m hurdles after she got her senior international debut in both the 100 and 200m at the Commonwealth Games.
#She didn't advance with Devynne Charlton out of the semi-finals of the hurdles after she placed sixth in her heat in 13.56 for eighth overall, but lost out on a spot in the final by another automatic qualifier. "I felt it wasn't too good for me. I didn't get to execute the way I wanted to, but it was all good," she said.
#"The hurdles is my best race and I feel more comfortable with it. I just wanted to see where I am right now."
#She noted that it was certainly an eye opener for her and she is more determined to get back to her next major international competition.
#Andre Colebrooke closed out his season with a fourth place finish in the semi-finals of the men's 400m hurdles in 53.27 for ninth place overall as he watched Shakeem Smith advance to the final with his fourth place in the other heat in 50.55 for seventh place.
#"It was good. It was my meet for the season, so I just wanted to go out there and try to make it to the final," he said.
#"Overall I made some mistakes. I should have taken it out a little harder, but maybe next time."
#Colebrooke, however, admitted that he was disappointed that he didn't run faster and advised the media to "look out for me."
http://www.tribune242.com/news/2022/aug/23/most-our-young-athletes-nacac-open-championships-w/?news