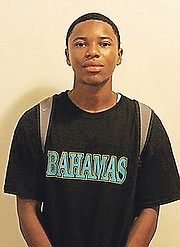 Franco Miller
#By RENALDO DORSETT
#Tribune Sports Reporter
#rdorsett@tribunemedia.net
#HIGHLY sought after basketball recruit for the class of 2018, Franco Miller Jr will spend a season playing prep basketball in Canada before he makes the leap to the collegiate ranks.
#Miller has joined the programme at Crestwood Preparatory College in Toronto, Canada as the school makes its transition into the National Preparatory Association for the 2017-18 season.
#The 6'2" guard spent much of the summer playing under coach Ro Russell for the Grass Roots Elite Club where his performance on the AAU circuit garnered offers from several Division I programmes.
#Russell was hired to head the programme at Crestwood in 2016 and Miller followed suit.
#The Grand Bahamian native will be tested right away as Crestwood will compete in the Southeast Division against powerhouse programmes such as St Michael's College, Toronto Basketball Academy and Central Tech Prep.
#Crestwood headmaster Vince Pagano, told North Pole Hoops that the school is committed to competing at the highest level against the top programmes in Canada.
#"Basketball has been on our agenda since our inception. We will now commit the resources necessary to take the sport to another level."
#"The NPA's consideration of individual student needs in a highly competitive athletic atmosphere makes it a perfect partner for the school's own initiatives, he said.
#"Ro Russell has been a giant in southern Ontario basketball for many years. He understands the game and understands the young people who play it so passionately under his tutelage. We are very proud to have him lead our basketball programme. Under his guidance, we expect effort levels and loyalty to our fundamental school values to improve across the board. We have already had ample evidence of that."
#Miller's play on the AAU circuit has attracted official offers from Montana State University, the University of Wyoming, St Bonaventure University and the University of Illinois at Chicago. There are also several other programmes that have expressedinterest.
#His most noteworthy performance came at the Fab 48 Invitational in Las Vegas, Nevada in July where he averaged over 20 points per game with Russell's Grass Roots Elite Club. In a 77-71 loss to BTI Select he scored 23 points, added five rebounds, two assists and three steals. He also had 22 points, five assists, four rebounds in a 74-70 win over the Simply Fundamental Basketball Club.
#At the local level with the Tabernacle Baptist Falcons, Miller had a season filled with accolades highlighted when he was named as the Most Valuable Player of the 34th annual Hugh Campbell Basketball Classic. His 27 points led the Falcons to a 58-52 win over the CI Gibson Rattlers He also led the Falcons to a Grand Bahama Secondary Schools Sports Association (GBSSSA) senior boys' title and finished as runners up in the second annual Bahamas National High School Basketball Championships.